Source: Thyblackman
Vanuatu is one of the most popular island destinations for Australians in search of a relaxing holiday. If you've already planned your visit, or you're thinking of heading here at some point, you may be wondering what to see and do during your stay. Here are some of the top attractions, day trips and activities to keep you busy your entire stay.
Yasur Volcano
Want to drive up an active volcano? Well, you can when you visit Vanuatu. The place you want to head to is Tanna Island, which is home to Yasur Volcano. You can visit the island by flying from Port Vila, and your best option is to stay overnight so that you can see the crater at night when it is at its most impressive.
You'll be able to look right down in to the crater and see the lava bubbling away far below, which is not something you'll forget in a hurry. While you're on the island, also take some time to see its other attractions, including the caves and the waterfalls.
Port Vila
Most people visiting Vanuatu, whether flying in or stopping off on a cruise, will spend at least some time in Port Vila, the capital. This is found on Efaté Island, and there are plenty of things to see and do here to keep you busy for days. Some of the highlights include the Vanuatu Cultural Centre, Vila Market and a whole host of adventure sports including kayaking, scuba diving, abseiling and more. This site that specialises in P&O cruises features more information on Port Vila.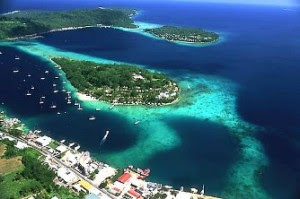 Mele Cascades
Mele Cascades is one of the big attractions in Vanuatu, and it is very easy to visit from Port Vila. The beautiful waterfall is a dramatic sight to behold, and as well as admiring the cascades you will also be able to enjoy other activities like abseiling. You can book your place on an organised tour, or you can simply catch a local bus and explore on your own.
Diving
If it is activities that you are after in Vanuatu, they don't come much better than scuba diving. Due to the spectacular underwater scenery in many areas, you will have a host of sites to explore, suitable for different abilities. Visibility is good all over the area, and you can choose from a selection of reefs and caves.
However, some of the best dives involve exploring shipwrecks, and the most famous of these is the SS President Coolidge. The wreck of this liner is one of the most famous dives in the world. It is a deep dive, only suitable for advanced divers, and you will find it off Espiritu Santo Island along with the USS Tucker destroyer.
Enjoy the Wildlife
Vanuatu is a natural wonderland, and whether you explore by land or sea, you will find plenty of exotic animals to marvel at. On land, birdwatching is very popular, and you should head to the southern islands for the best birdwatching sites. Alternatively, book a day tour out to sea to try and spot some dolphins, or visit a turtle sanctuary on Tranquillity Island.
Shop in Colourful Markets
The best markets in Vanuatu are found in Port Vila. Here you can spend a long time simply strolling around the Mama's Markets and watching the locals sell their fruit, vegetables and local dishes. You will also find crafts markets complete with carvings, clothing and souvenirs.
Ekasup Cultural Village
If you would like to find out more about the fascinating culture of Vanuatu, the Ekasup Cultural Village should be on your list. This is conveniently located not far from Port Vila, and you can easily arrange to join a tour when you arrive. Here you will find out about the traditional way of life on the island, including such customs as food, dancing and hunting.
Hideaway Island
Hideaway Island is located in Mele Bay, which is not far from Port Vila, and there is a resort here that you can visit for a day of relaxation. Here you can go snorkelling or scuba diving in the marine sanctuary, or you could even buy a waterproof postcard at an underwater post office.
Enjoy the Perfect Holiday in Vanuatu
These are just a few of the many things to keep you busy when you visit Vanuatu. Of course, even if you don't see any of these things, you will still be able to enjoy spending your time lying on picture perfect beaches as you listen to the waves lap at your feet. So whatever type of holiday you want, whether you want to do something every day or simply relax and take it easy on the beach, you will be able to do so in Vanuatu.