Alcatel-Lucent helps change Vanuatu forever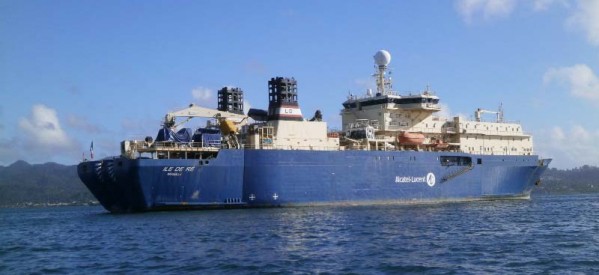 Caption: The  Ile de Ré in Suva Harbour.
Alcatel-Lucent's French-flagged Ile de Ré cable ship has started to roll out the new Interchange submarine cable system that will link Port Vila, Vanuatu to Suva, Fiji.
According to Simon Fletcher, CEO of Interchange Limited, this 1239km cable is intended to help increase Vanuatu's broadband internet access and affordability, as well as to give them access to the Southern Cross Cable, the main trans-Pacific system that connects Fiji, Australia and New Zealand to the United States of America. Following extensive underwater studies of the area, the cables were manufactured in Alcatel-Lucent's cable factory in Calais, in the North of France and recently transferred to Fiji via a freighter.
France's Ambassador to Fiji H.E Gilles Montagnier stated that:  "Fiji has been the hub of the Pacific for many years. Today it is also the ICT hub of the region. This is very important for Fiji but also wonderful news for Fiji's French speaking neighbours in the region as it means facilitating regional integration."
Vanuatu is a member of the Organisation Internationale de la Francophonie (an international organisation that brings together French speaking countries).
Based in Nouméa, the Ile de Ré is a 143 mt long cable ship capable of loading up to 6,000 km of cables and provided with state-of the art equipment for cable laying and maintenance. The cable ship is owned and operated by Alcatel-Lucent via ALDA Marine, its joint venture with Louis Dreyfus Armateurs (LDA), who manages the ship. Among the crew, there are about 25 Frenchmen on-board. All the crew is composed of specialised and experienced people in the various areas needed to ensure that the project is completed successful.
The operation is privately funded with the support of the Vanuatu Government.