Tok Tok kicks off with record crowds
 Hannah Edensor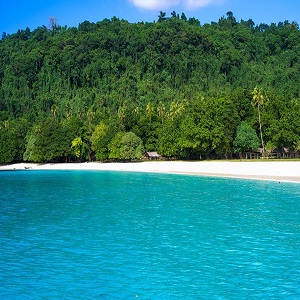 Tok Tok Vanuatu 2014 has broken records for attendance as the first day of the tourism and trade event began yesterday.
The event, in its 11th year, has attracted over 70 wholesalers and media guests from around the world, including Australia, New Zealand, USA, Germany, China and Fiji, to discuss business opportunities with more than 100 local tourism offices, hotels and tour operators from Vanuatu.
The event kicked off with a famil on the outer islands of Espiritu Santo and Tanna, and for the first time Malekula, with guests spending two days on one of the respective islands.
Around 40 guests on Santo were treated to an exploration of the Millenium Caves and diving, while around 35 guests to Tanna visited a unique range of cultural villages before experiencing the Mount Yasur volcano after sunset.
The group returned to Port Vila on Wednesday for the proceeding conferences over Thursday and Friday, hosted at Holiday Inn Resort.
Vanuatu Tourism Office (VTO) general manager Linda Kalpoi said Tok Tok 2014 was an integral aspect of the tourism strategies to encourage more visitors to Vanuatu.
"Tok Tok is a very valuable event on our calendar and this year we have decided to incorporate the theme 'Vanuatu and its cultures' to get visitors thinking about Vanuatu as a diverse destination with plenty to offer beyond the popular 'fly and flop' holiday epxerience it is often regarded for," Kalpoi said.
"This is also the first year that every provincial tourism office will be represented at Tok Tok so a big milestone and a sign that the event is strengthening its appeal here and abroad."
The conference opened with a welcome from major sponsor ANZ's chief executive officer Steve Roger, as well as an address from the deputy Prime Minister and Minister of Tourism, Trade, Industry, Commerce and Ni-Vanuatu Business Honorary Ham Lini Vanuaroroa.
Lini Vanuaroroa spoke about the slow rate of tourism over the past 12 months, and insisted that he would change this trend, with new initiatives such as building more accessible ports on outer islands such as Malekula, Santo and Pentecost to encourage additional tourism.
Tourism is accountable for around 70% of the economy in Vanuatu, and Lini Vanuaroroa said the market would also look to boost the Asian market to ensure numbers do not fall.
A new conference centre, due to open in 2015, is also set to increase tourism to the country, with capacity for over 1000 people and the setting designed for a range of business exhibitions and meetings.
The Tok Tok conference continues today with more scheduled meetings for buyers and sellers, as well as a range of site inspections,before a final Gala Dinner is hosted this evening at Iririki Island Resort.