New Zealand Investing in Vanuatu
Foreign Affairs Minister Murray McCully today announced New Zealand is contributing $17 million toward improving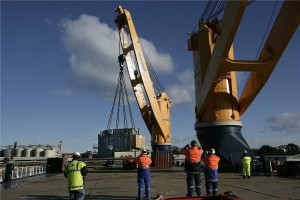 shipping services and port facilities in Vanuatu. Such endeavor will provide both nations further opportunities to increase trade between the two nations. Vanuatu serves as a hub to the rest of Asia with it's position in the South Pacific. Such investment will prove worthwhile to New Zealand by increasing trade efforts to greater parts of Asia while in turn increasing Vanuatu's exposure to the rest of the world.
The Vanuatu Inter-Island Shipping Support Project is a joint initiative between New Zealand, the Asian Development Bank (ADB) and the Government of Vanuatu.
"Shipping services are a lifeline in the Pacific, connecting communities, moving goods to market and supporting the tourism industry," Mr McCully says.
The $34 billion project will help establish up to eight wharves and jetties across Vanuatu to help establish an integral port that will serve as the hub of trade across the much of Asia and the South pacific. With it's significance Vanuatu's maritime safety regulations will be updated and fortified with the latest technologies implemented to improve safety by following the most up to date guidelines published by the International Maritime Organisation, an umbrella faction of the United Nations that serves to develop and maintain a comprehensive regulatory framework for shipping and safety.
" It will also allow for the construction of a new inter-island terminal in Port Vila to accommodate the growing volume of vessels and increasing tourist numbers annually " Mr McCully says.
Mr McCully is currently leading the 2013 Pacific Mission to Papua New Guinea, the PNG Autonomous Region of Bougainville, Solomon Islands and Vanuatu.