President of Vanuatu Moana Carcasses Kalosil has sought Sri Lanka's support to host the Commonwealth Heads of Government Meeting (CHOGM) in 2017,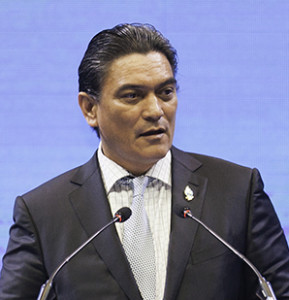 The Task Force Secretariat for CHOGM 2013 said in a press release on Sunday.
During his meeting with Sri Lankan President Mahinda Rajapaksa here Saturday, the Vanuatu President also requested Sri Lanka to share its rich experience with his country to successfully organize the Commonwealth leaders' summit.
Rajapaksa said he is ready to help Vanuatu by sharing experience in organizing the flagship event of the Commonwealth, and briefed Kalosil on the progress Sri Lanka has made since the end of the country's 30-year war in 2009.
Kalosil is here attending the CHOGM, the most important meeting of the 53-member bloc that convenes every two years. The ongoing CHOGM, which runs from Friday through Sunday, is the first such event that an Asian country hosts in 24 years.
2013-11-17 15:18:15  By Agencies
Read More about Vanuatu