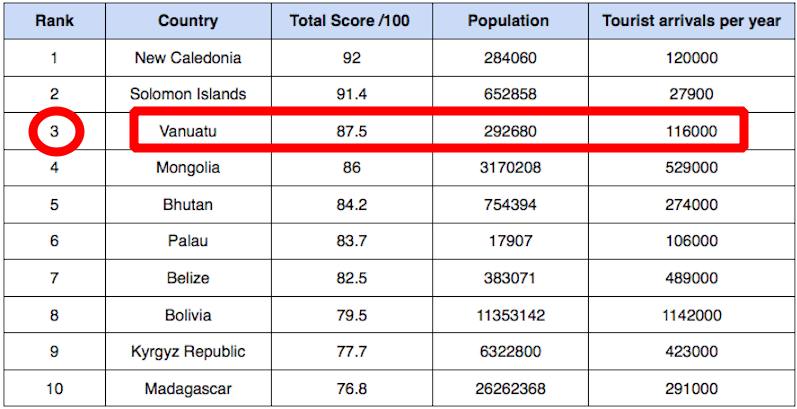 Richard Butler | Exclusive Report By Daily Post VU | OCT 1st, 2020
As social distancing becomes part of our new normal, taking into consideration the number of people we'll be in contact with has jumped to the top of the priority list for many. Official-Canada-eta.com has analyzed 169 countries against the number of arrivals and the population density to determine the most remote locations for a quiet break.
The data ranked Vanuatu as the third most remote location for a quiet vacation.
With people dreaming of jetting off to their perfect holiday destination, there are new factors to consider when choosing where that will be. With social distancing becoming the new normal, many people may possibly be opting for a quiet vacation rather than weekend breaks to crowded cities. So, where in the world ranks top as the most remote location for a quiet vacation?
New Caledonia crowned the most remote location in the world.
New Caledonia, a compelling island just less than a three hour flight from the east coast of Australia, is known for its tranquil beaches, breathtaking rainforests and French cuisine. This collection of idyllic islands in the South Pacific are home to a population of only 284,060 people. New Caledonia also ranks 8th as the country with the lowest population per KM2, with only 16 people per KM2.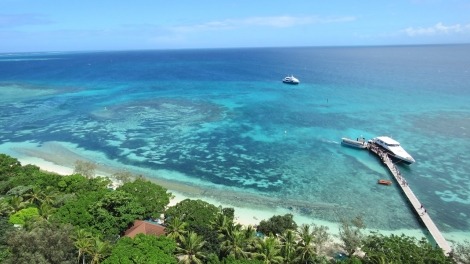 New Caledonia is the perfect destination for anyone looking for a luxury trip, where you can also embark on adventures from exploring the depths of a sunken ship to kayaking through a drowned forest. The islands, which are known as one of the South Pacific's most premier scuba diving destinations, welcomed 120,000 tourists in 2018. Ranking a score of 92/100, the low population plus the number of tourists visiting the islands each year means that New Caledonia is crowned the best option for people looking for a quiet location full of adventure.
Luxury island vacation locations come in top for remoteness
As well as the luxury vacation location New Caledonia ranking top, other dream island destinations for a trip-of-a-lifetime also feature on the list. Turks and Caicos Islands (12th), Dominica (16th) and Fiji (20th) all rank within the top 20 countries in the world for also being the perfect destination for a quiet trip.
Turks and Caicos Islands, with crystalline turquoise waters and white sand beaches, ranks 12th with a population of only 37,665 people, 40 people per KM2. Although the population of the collection of islands is low, they welcome over 10 times the amount of tourists with 441,000 arrivals in 2018. Made up of 40 low-lying coral islands, this destination is a favorite of celebrities with many luxurious all-inclusive resorts to choose from.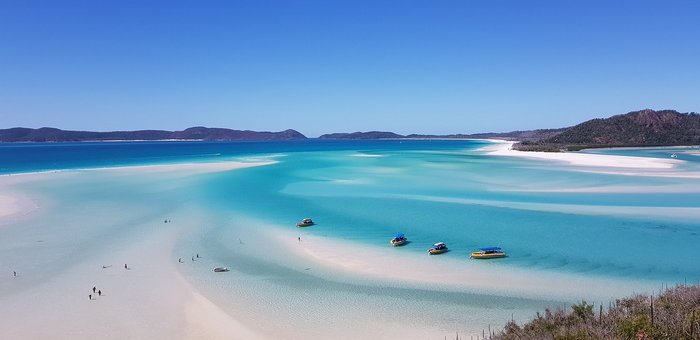 Dominica is considered to be among the most beautiful islands in the Caribbean and is also known for its luxury resorts. With natural hot springs and tropical rainforests, there's also the added benefit of it being quite remote as it comes in 16th with a score of 73/100.
Other luxury islands that rank in the top 20 include Solomon Islands (2nd), French Polynesia (17th) and Fiji (20th). Australia, Iceland and Canada rank in the top five countries with the lowest population per HM2
If you're looking for a vacation in an area which is sparsely populated, then you should choose one of these top countries with the lowest population per square kilometer.
Jayne Forrester, Director of International Development at Official-esta.com comments: "With many travel bans and airline cancellations bringing global travel to a standstill during the pandemic, 2020 has had a detrimental impact on the travel and tourism industry. But, as we start to come out of the other side and the world starts opening back up to tourists, we also have to adapt to the new normal of social distancing."
"It is crucial that we begin travelling again in order to help not only the travel and tourism industry to recover and prevent more job losses, but to also help the countries where tourism contributes a significant amount to their GDP. A bustling and busy city break was once a popular destination, but some people may now be looking for a more remote location to enjoy a quiet trip. We know that choosing to travel again will be a big step for most people, but have some peace of mind knowing these top destinations are perfect for a quiet, low-populated trip and hopefully will inspire your next adventure."