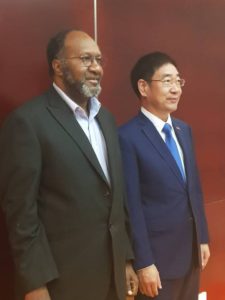 Vanuatu PM hails bilateral ties with China
Richard Butler | Xinhua | 22 Sept 2018


Vanuatu Prime Minister Charlot Salwai has hailed the island nation's good relationship with China, saying that China-Vanuatu relations will continue to grow from strength to strength.
Speaking at a reception held on Friday night in the Vanuatu capital city of Port Vila by the Chinese embassy on the occasion of the 69th anniversary of the founding of the People's Republic of China, Salwai said Vanuatu-China relationship is built on the principle of mutual respect and common understanding, strong people-to-people links and steadfast commitment to the betterment of the livelihoods of the two peoples.
He also promised that Vanuatu will continue to value its relations with China and look forward to continue learning from China's experience, placing equal emphasis on being able to proactively respond to the challenges that continue to plague its development path.
Salwai said that his country is happy to join China in celebrating the 40th anniversary of China's reform and opening up, a process which not only transformed China into what it is today, but also profoundly impacted the global economy and commerce patterns.
Vanuatu also looks forward to continued collaboration with China, and in benefitting from spillovers, through common priorities such as in education, skills and technology transfer, tourism, trade and investment and in agriculture, he said.
Salwai reiterated that Vanuatu firmly upholds the One China Policy.
For his part, Chinese Ambassador to Vanuatu Zhou Haicheng said that China and Vanuatu share a common future and see each other as true friends and cooperative partners. China attaches great importance to its relationship with Vanuatu and stands ready to work with Vanuatu to raise the bilateral relations to a new height.
"We will continue our efforts to strengthen high-level exchanges and mutual political trust, keep providing each other with mutual understanding and support on issues bearing on our respective core interests and major concerns, and consistently create new drivers of our relationship under the new circumstance," he said.
"We are fully confident that with the joint efforts, Sino-Vanuatu cooperation in tourism, agriculture, connectivity and other fields will certainly grow in depth and substance and add new chapter to the development of our relations."