Vanuatu: A detour in paradise
By Marty Silk
Thursday Mar 20, 2014
The people of Vanuatu are more keen than ever to welcome tourists. Marty Silk finds a cheerful country.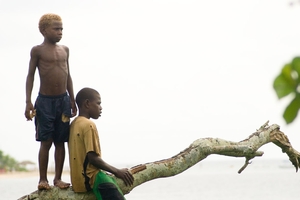 Two boys from Mele village embark on the day's newest adventure. Photo / Creative Commons image by Flickr user Graham Crumb
Five Melanesian children splash in the calm, turquoise bay while their mum washes clothes nearby.
Tanoliu, a tiny village on Vanuatu's Efate island, is only about 40km from the capital, but it's not far from paradise.
My partner and I have been exploring the island on quad bikes all morning. We're staying in Port Vila, a resort centre and transit point to the salubrious outer islands.
Numerous guided tours are available, offering waterfalls, turtle feeding and custom village experiences. But we don't want to spend a day on and off a tour bus, being ferried about the tourist traps that inevitability cost more than you agreed when you set out. So we rent quad bikes from a Frenchman and head southeast out of the city.
Rolling through the verdant countryside we see cattle grazing between coconut palms and beneath giant banyan trees.
Despite high poverty and unemployment, Vanuatu was recently ranked the world's happiest country on the New Economics Foundation's Happy Planet Index.
Every person we pass on the road stops to wave at us with big warm smiles, so it's easy to understand why.
As we slow down to ride through villages, children run out for high fives and older people tending to vegetable patches down tools to greet us.
There are hardly any other vehicles and for most of the 120km ride the road is empty. We take our own detours, rounding bends and coming over hills to find starched white beaches lapped by azure waters. The road runs past steep forested hills smothered by vines and thick weeds like a great green carpet.
This part of Vanuatu doesn't make the glossy brochures, but it's really something special.
Far from the urban throb and with the wind in our hair, we're getting closer to paradise. Tearing down narrow, shady lanes lined with hedges and pretty flower beds, kicking up fallen leaves in our wake – it's hard not to ride with a smile. Fishermen, graziers and men holding huge machetes all break into a grin and wave as we zip past.
Towards the end of the morning we come over a hill and the vast Havannah Harbour opens out in front of us. Hemmed by tall green islands of Moso and Lelepa, the harbour's calm, crystal inlets call out to us. We pull over next to a quiet bay to take in the scenery.
To our left are a few colorful corrugated iron shanties surrounded by coconut palms, with mountains rising up behind them. To the right, an idyllic scene with those children playing near their mother in the bay.
My partner snaps a photo of the water, while I close my eyes and breathe in deep. We've found what we were looking for.
The road sign says Tanoliu, but it should say Paradise.
Simple guide to Bislama
Vanuatu's most commonly spoken language, Bislama, evolved as a mix of indigenous languages, French and English. Visitors shouldn't have much trouble sounding out most words including these.
• Hello – Alo
• Goodbye – Tata
• See you – Lukim you
• Please – Plis
• Excuse me – Skiusmi
• Thank you very much – Tank yu tumas
Other Bislama terms are more descriptive:
• Child – Pikinini
• Excellent – Nambawan
• Call the police – Singalot polis
• Freshwater – Fres Wota
• Sea – Solwata
• Seagull – Pidgeon Blong Solwata
Some terms take descriptiveness to the extreme:
• Bra – Basket blong titi
• Prince Charles – Nambawan Pikinini Blong Missus Kwein
• Violin – Wan smol box blong white man, oli scratchem beli I singout gudfala
• And although the Bislama term "helikopta" is widely used, the old term for helicopter has more charm – Mixmasta Blong Jesus Christ
– AAP
Read More about Vanuatu