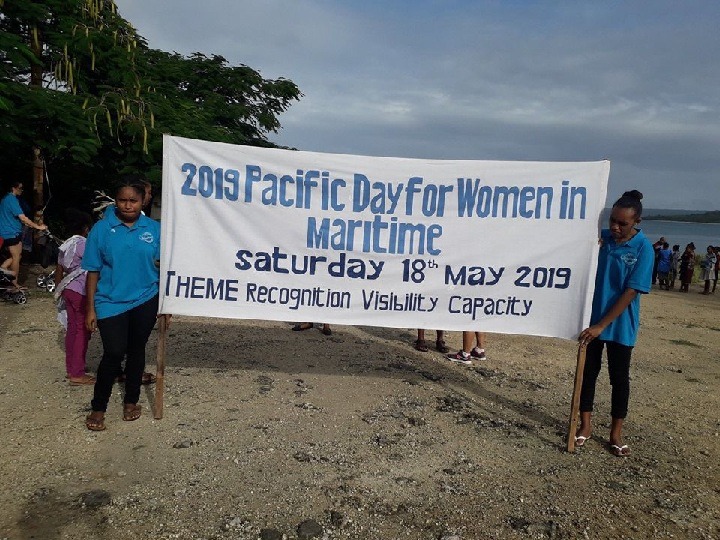 Richard Butler | RNZ | May 27th, 2019
Vanuatu Women in Maritime (VANWIMA) celebrated Pacific Women in Maritime (PACWIMA) day on Saturday, May 18 2019.
Director of Ports and Marine Henry Worek delivered the official address on behalf of Minister responsible for Maritime affairs, Christopher Emelee.
Director Worek congratulated VANWIMA for organizing the event and for challenging a "male- dominated workforce".
He stressed the importance of seeing more women in Vanuatu in the Maritime industry. He said so far, Vanuatu only has a few captains and two graduate engineers who serve on-board vessels.
Most women in Maritime tend to be part of the onshore pool of employment whilst the majority of females are on cruise ships but not in maritime trade qualification, so Vanuatu women need to be more involved in this area.
After the official remarks, the keynote remarks were delivered by the President of VANWIMA and Finance Manager to the Office of the Maritime Regulator, Mary Navaika.
She emphasised on the International Maritime Organisation (IMO) Women in Maritime slogan "Training-Visibility-Recognition".
IMO encourages member countries to support the participation of woman in both shore-based and sea-going posts. Mrs. Navaika also touched on the UN 2030 Agenda for Sustainable development and 17 Sustainable Development Goals (SDGs), particularly Goal 5 "Achieve gender equality and empower woman and girls".
The program started around 7.30am with a march from Ifira landing through the main town and ended at the MIPU compound, George Pompidou. The closing remarks was officiated by the CEO of the Vanuatu Maritime College.
Pacific countries who are part of PACWIMA also hosted similar celebrations.