Melbourne to Vanuatu Ocean Race – Leader just 300 nm from finish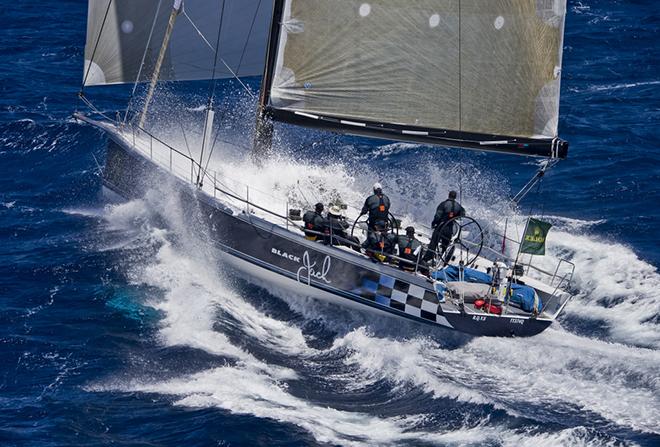 'Alive – Melbourne to Vanuatu Race'    Peter Campbell
2014 Melbourne to Vanuatu Race – By noon today, the Tasmanian yacht Alive should be just 300 nautical miles from the finish of the Melbourne to Vanuatu ocean race.
Alive, owned by Philip Turner and skippered by Duncan Hine, both members of Hobart's Derwent Sailing Squadron, with a crew of Tasmanian and Queensland sailors, has blitzed the small fleet that set sail last Monday.
The powerful Reichel/Pugh 66 at 10am today was 670 nautical miles ahead of her nearest rival, Jazz Player-TPF, a Bakewell-White Z39 skippered by Matthew Lawrence from the Royal Melbourne Yacht Squadron.
A further 125 nautical miles astern came Cartouche, Steven Fahey's Beneteau First 50 from Royal Brighton Yacht Club. At the tail end of the fleet is the Rally division entrant, Myuna, 980 nautical miles astern of Alive.
Alive sailed to the south-east of New Caledonia early today, making just over 14 knots on a heading 17, and if she can maintain that boat speed she should cross the finish line at Port Vila, capital of the tropical island state of Vanuatu, late Sunday morning.
The Melbourne to Vanuatu Race, over 1885 nautical miles, is a part of programme leading up to the 70th Rolex Sydney Hobart Race for Reichel/Pugh 66, which previously raced as the Queensland-owned Black Jack. Last Easter Alive dominated handicap results in the Brisbane to Gladstone Race.
Following the race through the tropics to Vanuatu Alive will return to Australian waters to contest the Sydney Gold Coast Race and then Hamilton Island Race Week.
Meanwhile, the second casualty of the Vanuatu Race, Geomatic, has reached Sydney after breaking her boom running downwind in 40 knot winds and confused seas.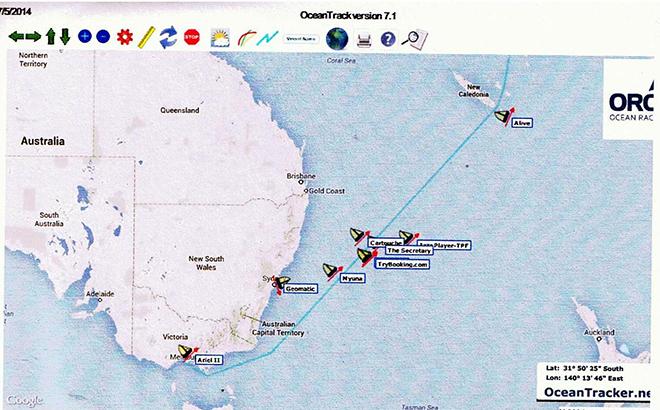 Vanuatu map – Melbourne to Vanuatu Ocean Race –  Peter Campbell
Skipper Adrian Lewis from Mornington Yacht Club reported to the Ocean Racing Club of Victoria that the Geomatic was 'running the angles downwind, making good ground in over 40 knots and a very messy sea state when she crash gybed.' The crew set a jury rig and headed for Sydney.
The other retirement has been Ariel II, Ashley Stevens' Jeanneau 36.2 that also broke its boom, on the first night at sea in Bass Strait. Ariel II returned to Melbourne.
by Peter Campbell