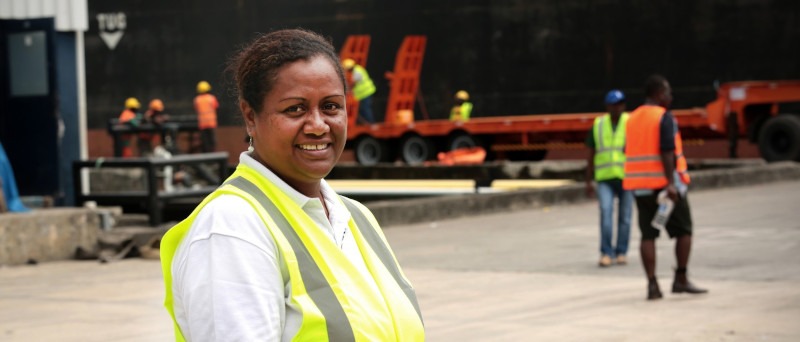 Richard Butler | Exclusive Report By Michelle Kovacevic of Trade4DevNews | July 22nd, 2020
Country's online trading system off to a timely start, as COVID's physical distancing requirements disrupt manual systems.
Vanuatu has managed to do what no other Pacific island country yet has – take their customs and bio-security processes online.
The country's Electronic Single Window system enables businesses to submit and pay for import and export certificates, licenses and permits online.
"It has significantly reduced the amount of paperwork and time required to process approvals and also has made it possible for the government to track and collect data on these processes in real time," said Luisa Letlet from Vanuatu's Ministry of Trade, Tourism, Commerce and Ni-Vanuatu Business.
"The system has substantially reduced barriers to trade, reduced border clearance times and improved security of traded goods," Letlet said.
Research by the World Bank has shown that trade facilitation and logistics impediments have an important impact on trade competitiveness. Even a one-day reduction in the time required to export goods can have a significant impact on export volumes.
Lengthy and costly
Prior to the online system, businesses wishing to import/export in Vanuatu would have to complete paper forms, submit them in person to the responsible government agencies, wait a number of days for approval, return to the office to make payment and receive a printed copy of their permit.
"If a minor change was required to a permit, we would have to send our team down to the bio-security office at the airport," said Sophia Fogarty, General Manager of Dynamic Supply Company, a wholesale food and hospitality products supplier.
"As we import fresh fruit and vegetables, we need to obtain our plant import permits before we can pack containers. As we are dealing with fresh produce, it is time sensitive, so even minor delays in permit approval can become very challenging to manage," Fogarty said.
A 2017 survey by the Asian Development Bank found that Vanuatu's customs took, on average, three days to clear cargo, while bio-security took 11 days to process sea cargo, which it described as 'excessive'. And while Vanuatu has consistently ranked among the top Pacific countries in the World Bank's Ease of Doing Business Index, it still ranks 107th out of 190 countries due to its lengthy and costly trade procedures.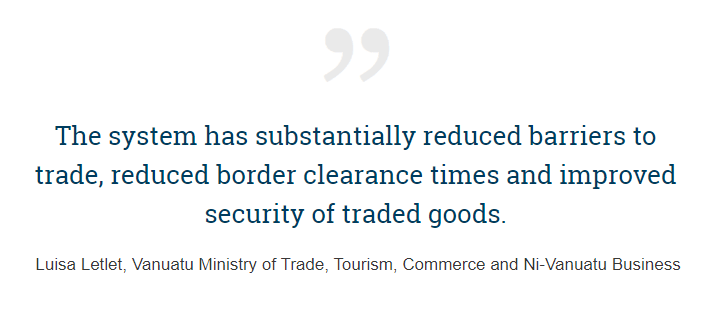 The manual process also made it challenging for government departments to coordinate with activities happening in outer islands.
"Prior to the electronic system, our regional bio-security office in Santo was keeping all its export and import records on an excel spreadsheet. So while the director of bio-security, who is a few hundred kilometres away in the capital Port Vila, was provided with this information at the end of each month, she wasn't able to easily track what was happening day to day," said Stanley Trief, Vanuatu National Single Window project manager.
From manual to electronic
With financial support from the Enhanced Integrated Framework (EIF), in 2019 the Vanuatu government approached the United Nations Conference on Trade and Development (UNCTAD) to adapt their Automated System for Customs Data (ASYCUDA), which is used in more than 95 countries.
"Customs had already been using this system so the infrastructure is already in place in the government. It was just a matter of building modules for other government agencies who wanted to take their processes online," Trief said.
Together with UNCTAD experts, they first began working on a module to enable traders to obtain Sanitary and Phyto-sanitary (SPS) permits and certificates online.
"For instance, let's say you want to apply for an import permit for apples you're bringing in from Australia. First you have to be registered as an importer in the system. This will grant you access to the bio-security module," Trief said.
"Once you submit your application, bio-security will receive it instantly. They'll process it in accordance to plant specification manuals and whether the supplier is already authorized."
"Now if you as the importer have set up a credit or prepaid account, as soon as the senior officer approves the application in the system, then automatically the application is paid and you receive the permit as a PDF file, that you can email to your supplier in Australia."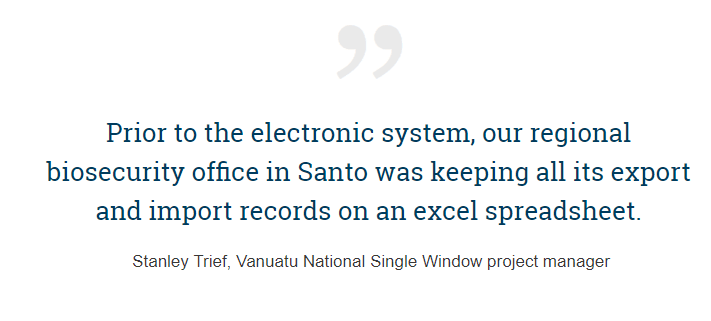 The senior officer is the only one who is authorized to approve the application, Trief said, and previously if they were not in the office, the process was on hold until their return.
"Now the senior officer could be in a meeting or overseas and still be able to approve applications."
The move from submission to approval now can happen in less than a day. This has proved important, particularly as the COVID-19 pandemic hit the country.
"When the bio-security module went live on the 24th of March, it was when the government was enforcing all these rules and directives of social gatherings. It was timely that we went into an online system, as it enabled us to continue to process permits while achieving physical distancing," said Trief.
Despite the closure of borders, 760 SPS applications have been processed as of the 1st of July.
"Businesses were still able to lodge permits online and government officials were still able to approve them while working from home. This would not have been possible with our previous manual system," Trief said.
Increased performance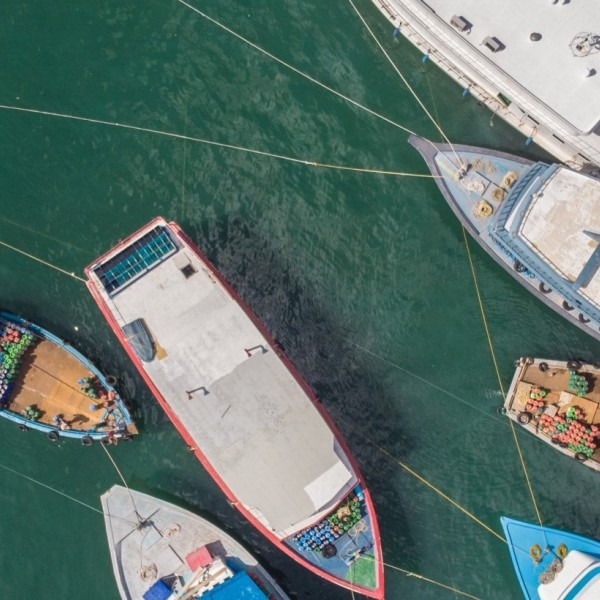 The system now has 300 registered users and is being used by the Vanuatu statistics office to provide better information for government decision-making, Letlet said.
"The single window system should not be seen in isolation. It's part of a broader national trade policy framework and the national sustainable development plan that aims to increase Vanuatu's overall competitiveness and economic performance. The future of the single window is to integrate other agencies involved in the movement of goods and people across our borders.
"As our trade facilitation indicators improve with the use of the single window system, we hope this will enable Vanuatu to move higher up in the ease of doing business ranking," said Letlet.
The project team has held training for traders and bio-security officials in Vanuatu's main ports of entry, Port Vila and Luganville. There are plans for modules for other government departments – the Department of Energy, Department of Environment, a specific module for Customs, and the Department of Industry – in the coming months, either online or in-country, provided that UNCTAD experts are able to travel.