Japan launches US$50m Vanuatu wharf project
The Japanese government has launched a 50 million US dollars project to expand Lapetasi Wharf in Vanuatu to improve the archipelago's international shipping capabilities.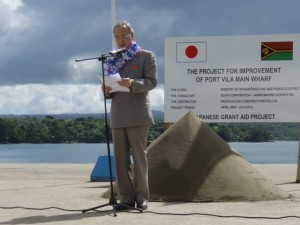 The president of Japan International Cooperation Agency, Akihiko Takana, says Vanuatu depends on maritime transport to sustain its economy.
Dr Takana says because the volume of international cargoes is increasing, Vanuatu urgently needs to improve its handling capacity and expand the wharf.
He says a new multi-purpose wharf, a container yard and more facilities will be constructed.
"Countries like Japan, which continues to prosper with the help of greater interconnectedness of trade. That means, for us, the Pacific is very, very important."
The Lapetasi Wharf project is expected to be completed in 2016.
Read More about Vanuatu