Beach Volleyball Media Release 27 October 2014:

 Vanuatu defeats Australia to win gold at the Hong Kong Open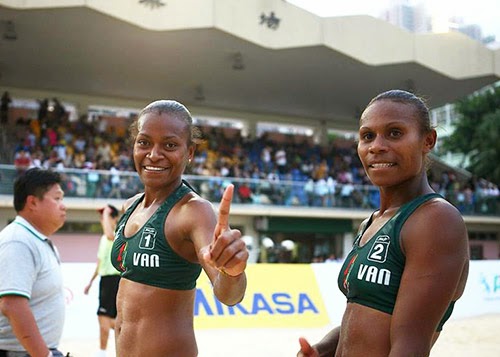 Vanuatu's golden beach volleyball girls continue to excel on the world stage. On Sunday 26 October, the new pairing of Miller Pata and Linline Mansale defeated Australia in the final of the Asian Beach Volleyball Tour Event in Hong Kong. The girls lost a close first set 21-18 but responded strongly and took the second set 21-17. After going down 9-6 in a tightly contested third and final set, the girls found the resolve to draw level at 12-12. In an exciting fight to the finish, they eventually won 17-15.
The final scores were 18-21, 21-17 and 17-15. Miller and Linline played extremely well throughout the whole tournament, convincingly defeating teams from Japan, Thailand, China and Kazakhstan on the way to the final. The girls lost only one set during the entire tournament – to Australia in the final. After last playing with each other in 2011, the girls have started their new journey on the Road to Rio 2016 in the best possible way. They now travel to Thailand for a one week training camp with Head Coach Jason Lochhead before competing in the FIVB Pattaya Beach Volleyball Challenger Event. They will arrive back in Port Vila on November 12.

The Vanuatu Tourism Office congratulates Miller and Linline!