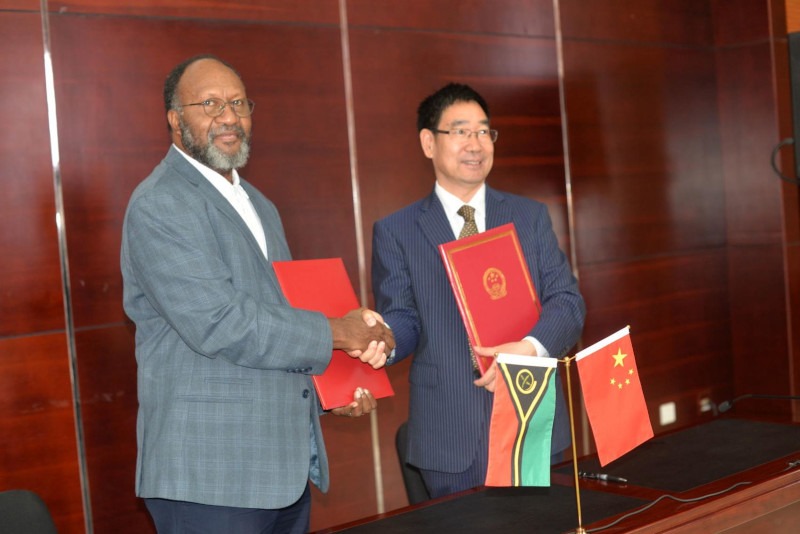 Richard Butler | Exclusive by Godwin Ligo of Daily Post | Sept 19th, 2019


Vanuatu and China have sealed a cooperation Agreement on Air Services between the two countries. This historic agreement will attract almost 500,000 Chinese visitors per year and investors for Hotels & Resorts.
This was achieved yesterday morning when Prime Minister Charlot Salwai and the Chinese Ambassador to Vanuatu, Zhou Haicheng, signed the Air Services Agreement at the Prime Minister's Office in Port Vila, witnessed by officials from the PMO, the Chinese Embassy, Civil Aviation Authority and the Ministry of Infrastructure and Public Utilities.
Prime Minister Salwai thanked the Chinese Government for its ongoing assistance to the people of Vanuatu. He said the cooperation agreement has reaffirmed the relationship between the two countries.
In his remarks on the signing of the cooperation agreement, the Chinese Ambassador to Vanuatu, Haicheng Zhou, said the two countries will continue to explore options for closer cooperation on civil aviation such as charter flights and direct flights between the two countries.
"Vanuatu has great potential for development, especially in tourism," he said.
"It enjoys some of the most stunning scenery extraordinary landscapes and attractions in the world.
"China remains the world biggest market in outbound tourism with 150 million outbound visits made by Chinese travelers in 2018. I believe that with the deepening cooperation on civil between China and Vanuatu, there will be more facilitation for Chinese people to choose Vanuatu, the paradise islands as their destination.
"As the Chinese Ambassador, I will continue to work with the Vanuatu Government to further strengthen connectivity and cooperation on all fronts and promote China-Vanuatu Comprehensive Strategic Partnership to a higher level bringing more tangible benefits to the two peoples."
The Air Services Agreement is another rewarding result of the Belt and Road Initiative (BRI) and the two countries will continue to explore options for closer cooperation in civil aviation.