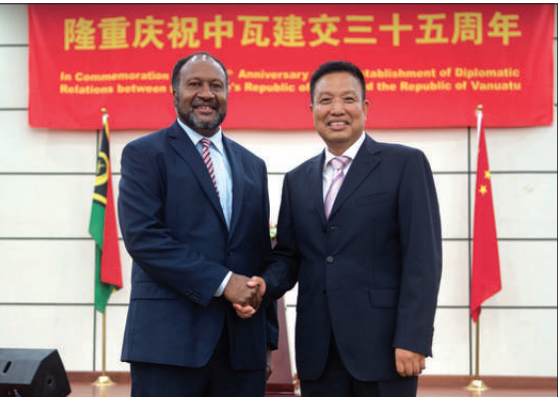 Post by Richard Butler | 19 March 2017 |
35 years of diplomatic relations between the Republic of Vanuatu and China, were celebrated at the new national convention centre with the Prime Minister and the Chinese Vanuatu Embassy Ambassador Liu Quan.
The Ambassador in his speech reminded us that on March 26th, 1982 and then Prime Minister Walter Lini signed the Historic document to establish diplomatic relations between the two countries. Vanuatu thus became the first western government to recognise China.
Over the last eight years, I have personally witnessed the rise of the welcome for Chinese investment into Vanuatu as well as other countries such as Japan, Korea, America, Australia, New Zealand, Russia and much more.
All came to help also after the Republic of Vanuatu was visited by the unbelievably strong Cyclone Pam with winds of up to 320 kilometres an hour. Said to be the strongest cyclone ever in the South Pacific, it decimated much of the capital Port Vila affecting thousands of the local people's homes and livelihood.
But China helped Vanuatu more than others with 190 tonnes of relief supplies airlifted to Port Vila, greatly assisting the government and the people of Vanuatu through this cyclone ordeal.
And for over 30 consecutive years China has sent medical teams to the island of Espirito Santo and it's main town Luganville and also Port Vila on Efate Island to provide much-needed assistance in the health sector.
In the area of educational cooperation, about 100 Vanuatu students are currently studying for a degree in China under the Chinese government's scholarship program. Additionally more than 700 Ni-vans have undertaken various types of professional training in China, which enhances the building of Vanuatu resources
About development projects, the Ambassadore mentioned a few such as the new Parliament building, the expansions of the USP campus, the Malapoa college currently under construction, the Prime Minister's Office Building, the fabulous National Convention Centre, and various sports facilities being developed for the 2017 Pacific mini games.
The new Luganville wharf on Santo and the road construction on Malekula Island are other joint projects, which are so important to one of our projects operated by South Pacific Plantations, where we are developing over 1000 papaya fruit farms – we call them in the South Pacific pawpaw – for export to China, Japan, New Zealand, Australia and parts further a field.
The Ambassador stated that currently, Vanuatu has received from China the highest number of projects among the Pacific Island countries. "This is surely a reflection of our fruitful cooperation," he stated.

I remember in November 2014 the Chinese President Xi Jinping met with Vanuatu's then Prime Minister Joe Natuman to establish that strategic partnership featuring mutual respect and common development.
The actual President of China stated that's because Vanuatu had such a long relationship with China, and was one of the first countries to recognise it, that now the business people of China should try to help their little brother.
Since that time China and the Republic of Vanuatu have conducted fruitful cooperation in bilateral and regional affairs and have made great progress in their relations. A relationship which sets a good example for China with other Pacific Island countries.
In November 2014 I was invited to represent the Republic of Vanuatu at the 21st Century Maritime Silk Road during the inaugural expo. I was representing the Deputy Prime Minister, the Minister for Tourism and Infrastructure.
We had excellent meetings with Hotel and Resort operators and leaders discussing infrastructure development as well as departments of local council and various Banks in southern China.
This week I have been appointed under the new Migration Act as an agent to be able to provide an offer to both relocators and retirees as well as business people… the opportunity of relocating to the Republic of Vanuatu. This is under the new passport and citizenship Act gazetted 1st February 2017.
Citizenship and passport can be supplied in under 3 months in exchange for a payment of US$235,000 for a family of four. This is subject to normal checks of police record, health, and financial ability. You can relocate to this fantastic chain of 83 islands in the South Pacific, just 2 hours flight from Australia 3 hours flight from New Zealand and about 8 and a half hours flight from Hong Kong.
Recently and with the help of the of the Chinese Shanghai Construction Company a new 350-metre cruise ship and container wharf has been built on Espirito Santo Island which is the closest international port for the export of agricultural products from our farm on Malekula Island.
The Vanuatu government is considering to have a Class E airport located there with an upgrade of the existing Pekoa airport just 4 hours traveling time from the Malekula Island project and from there it would be just 8.5 hours flying time to Hong Kong.
The larger planes could then bring more than 300 on board rather than the current 170 and of course, can fly back with tonnes our fresh organic produce.
The Republic of Vanuatu tourism sector is about to boom – currently tourists to our nation spent US$145 million this year, up 9% from 2015.
Most of our current visitors come from Australia, New Zealand New Caledonia or other Pacific island nations. Totalling approximately 95% of visitors, they presently spend US$47.4 million on accommodation, US$37.9 million on airfares, US$26.3 million on Food and Beverages, US$8.6 million on local transport, and US$6.6 million in retail.
The most appealing aspect for the bulk of our holiday visitors is the welcoming people of Vanuatu – they are a natural resource! Additionally adventure activities and attractions of the fantastic aquatic coastline where the rainforest meets the sea attract our visitors. For us it's like living in a postcard. Many are drawn to the environmental aspects of no pollution, the fabulous organic food, wonderful unpolluted freshwater from our Pacific monsoon rains which feed the waterfalls and lakes, and lastly our beaches with the scuba diving and fishing.
Quantities of visitors come to visit the active volcano on Tanna Island. Tanna Island has recently been featured in the movie Tanna. This love story about the village lifestyles actually made it all the way from a little island nation to being one of the nominations for a prestigious Oscar Award in Hollywood 2017.
Lastly, there has been a visitor explosion, and the increase in cruise boat visits means that we're getting the most number of visitors in the South Pacific on cruise ships. Now it's not unusual to see a cruise ship in Port Vila every day and a half with between 1400 to 2500 people on board.
Day tourists spend US$220 a day per person when they visit Port Vila which only has a population of about 35,000. When the first cruise ship from Shanghai arrived in January 2017 with 5,000 Chinese tourists on board it swelled Port Vila's population more than 10% in one day. Greater than 190,000 tourists visited Port Vila in the last 12 months, and this is expected to swell to over 500,000 within the next 5 years.
Success always breeds success. Now that our three new international wharfs are almost finalized and with the visitor uptick that the upgrades to the three International airports will achieve, one could project that within ten years over a million visitors per year could be received. This target the could be achieved by adding both cruise ships and direct flights from Asia supplementing the direct flights from Australia and New Zealand currently operating.
Advice from any leading knowledgeable property investor would tell you that "the early bird gets the Worm." It is so true in real estate, and now is such a time to investigate purchasing an agricultural farmlet from US$19,950 or a new resort or new residential investment unit on the waterfront from US$250,000, and enjoy the cash returns yearly. And of course you could look forward to the gain in equity over the next three to five years.
It is well known that emerging nations return a higher percentage of investment dollars. Recently it was reported in South Africa re their 46% increase in numbers of millionaires, that this has come about from those investing in agriculture, tourism and company structures.
Our corporation can provide investments with all three of these millionaire-making factors mentioned as well as providing permanent residency and Citizenship and Passport if required, to approved applicants subject to the normal conditions of the Vanuatu migration department.
The further information, please contact the writer Richard Butler by email at richard@vanuatuinvest.com or contact phone number country code +6141 7007 792