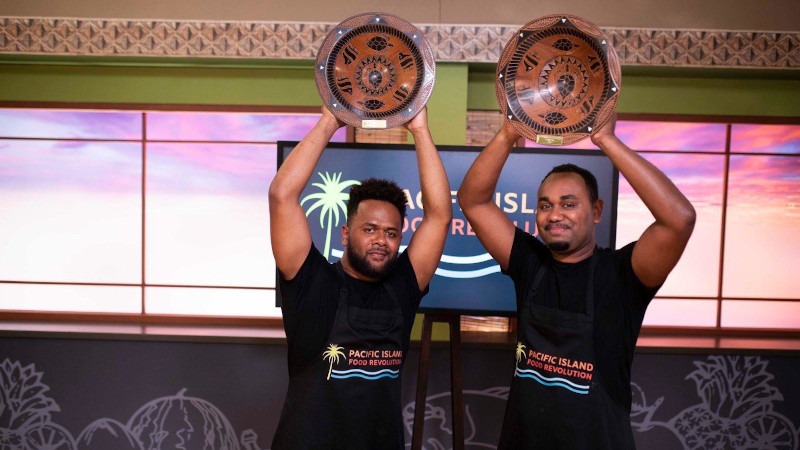 Richard Butler | Daily Post | July 1st, 2019 | Photo Courtesy: Faanati Mamea



Knox Talio & Leo Vusilai Crowned PIFR Champions, a program developed by Celebrity Chef Robert Oliver of New Zealand and funded by both the governments of Australia & New Zealand.
Vanuatu Island Boys Knox Taleo and Leo Vusilai have been crowned the first Pacific Island Food Revolution champions after an epic feast challenge at the Grand Final in Suva, Fiji.
The Island Boys receive an all-expenses paid trip to Hong Kong with return tickets from Fiji Airways, and a gift pack each from Pure Fiji, Pearls from J Hunter Pearls.
Runners-up Fijian Foodies Shamim Ali and Manasa Bolawaqatabu each receive a gift pack from Pure Fiji, and from Fiji Airways, return tickets to Wellington, New Zealand, and from Le Cordon Bleu New Zealand, accommodation at CQ Hotel and classes in classical and contemporary French techniques and Le Cordon Bleu uniforms.
Knox and Leo were both overwhelmed and thrilled at winning the first season of Pacific Island Food Revolution.
"To be the first champion is such an honour to represent Vanuatu, our families and the Pacific," said Knox. "It's such an extraordinary feeling. I'm so happy to be blessed to being part of such big family — all from different islands but we really came together and we showed the world our ethics, and what family means to us and food definitely.
"I feel so proud of what Leo and I have done. The Vanuatu food culture is such a gem and now we have shown it to the world."
"Tuff tumas! said Leo. "I'm so excited because this is not something that has been handed to us. We have worked really for this, tried to bring up our local food culture to a world-class level.
"My dream is finally come true. We are the first Pacific Island Food Revolution ambassadors.
"Thank you to all the teams who challenged us and made us better cooks. They brought their talent and their culture and it was great to meet and connect with them."
"We don't know what lies ahead but it feels really exciting."
Vanuatu co-host Votausi Mackenzie-Reur said she was "proud tumas" of the Island Boys.
"You've honoured us. You've not only brought Vanuatu but the islands from the north to the south. You have taken our traditional ingredients into the future."
It was close final with the judges saying it was a case of excellence vs excellence in the #IslandBoys and #FijianFoodies cook-off.
Revolution creator and host Robert Oliver said it was a near impossible choice. "In the end we had to go back to our original intention of activating indigenous knowledge for future generations. The Epic Feast was a brilliant representation of excellent cuisine showcasing the Pacific.
"The great treasures of Vanuatu have now been revealed to the world — thoughtfully, creatively and perfectly — and all on a plate."
He said runners-up Shamim and Manasa also created a new excellence. "The magic of their dishes lay in their ability to honour the many cultural traditions of Fiji and bring them deliciously into the present and on to the future. Their dishes should be on every tourism menu in Fiji."
Fijian Foodies were disappointed but said this is not the end for them.
"Someone has to win and someone has to lose," said Shamim. We did our best. Fijian Foodies — our heads held high. We have come a long way — way beyond our own imagination, coming up with new ideas, new experiments."
"I just want to take this opportunity to thank everyone," said Manasa. We tried to get the Revolution spread out not only to the Pacific but the world as well. We won't stop here."
Shamim added, "It's not going to stop here. This will take us a long way. Fiji is going to the world."
The Pacific Island Food Revolution covered four countries – Tonga, Fiji, Vanuatu and Samoa — and featured 12 teams who competed in national episodes to represent their country at the regional finals.
The finalists from Tonga were Ministers' Wives Sela Latailakepa and Taufa Kioa, and from Samoa the Samoan Foodies John Tu'u and Jerey Young.
Pacific Island Food Revolution was developed by Robert Oliver. The Revolution uses the power of reality TV and social media to activate local cuisine knowledge to support good health and address non-communicable diseases. It is produced by Pacific Island Productions.
The Revolution is jointly funded by the governments of Australia (Department of Foreign Affairs — Innovation Xchange) and New Zealand (Ministry of Foreign Affairs — Aid Programme). (The views expressed in this program do not necessarily reflect those of the Australian and New Zealand governments.)