Vanuatu PM desires closer bonds with Vietnam
The Republic of Vanuatu is eager to bolster cooperation with Vietnam in agriculture, forestry, fishing, mining, trade and tourism, Prime Minister Joe Natuman told his Vietnamese counterpart Nguyen Tan Dung at their talks in Hanoi on October 6.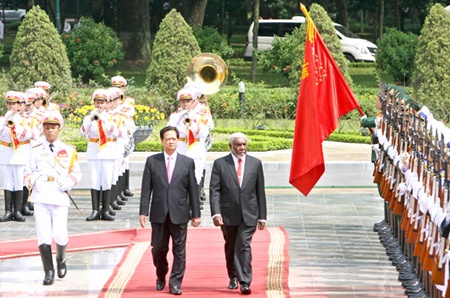 PM Dung said the Vanuatu PM's visit will usher in a new period of the friendship and cooperation between Vietnam and Vanuatu in the time to come.
He thanked the Vanuatu government for its support for the Vietnamese community living in the island state, and its recognition of Vietnam as a full market economy.
PM Natuman expressed his appreciation for Vietnam's willingness to share integration and development experience.
Both leaders proposed an increase in visit exchange at all levels aiming to deepening mutual understanding between their people.
PM Nguyen Tan Dung welcoming his Vanuatu counterpart Joe Natuman (L) in Hanoi.
They noted with satisfaction over the sound relations between the two countries in recent years, stating that they share similarities as both nations had experienced the arduous struggle for national independence and freedom.
PM Joe Natuman praised Vietnam's sustained efforts to overcome the severe consequences of war and reap the tremendous achievements in national construction and development which has turned Vietnam into a regional dynamic economy.
Regarding regional and international issues, the two PMs commended the two nations' mutual support at regional and international forums in the past and agreed to join hands in multilateral mechanisms, such as the United Nations, the Non-Aligned Movement and the Francophone community.
On the East Sea issue, the Vanuatu PM said his nation backs Vietnam and ASEAN's stance on the peaceful settlement of the East Sea disputes in line with international law, including the 1982 United Nations Convention on the Law of the Sea (UNCLOS) and the full implementation of the Declaration on the Conduct of Parties in the East Sea (DOC) towards finalizing a Code of Conduct in the East Sea (COC).
The Vanuatu guest invited PM Dung to visit Vanuatu and his invitation was accepted with pleasure.
After the talks, the two PMs witnessed the signing of a Memorandum of Understanding (MoU) on technical cooperation and development by the two foreign ministers.
Vanuatu PM Joe Natuman is on a working visit to Vietnam from October 5-9 at the invitation of PM Nguyen Tan Dung to spur bilateral cooperation in potential areas.
President welcomes Vanuatu Prime Minister
Vietnam and Vanuatu can cooperate in many potential fields, especially economics, said President Truong Tan Sang at a meeting with Vanuatu Prime Minister Joe Natuman in Hanoi on October 6.
Sang expressed his delight at Vanuatu's active socio-economic changes.
He thanked Vanuatu for its support to Vietnam at international organisations and creating a favourable condition for Vietnamese residents to live and work in the country.
PM Joe Natuman's visit to Vietnam will open more opportunities for both sides to promote cooperation, Sang stressed.
For his part, PM Joe Natuman congratulated Vietnam's current socio-economic achievements and stated that despite geographic distance the two countries are close at international forums.
The two countries should actively cooperate at bilateral and multilateral levels, the PM proposed.
Vietnamese residents in Vanuatu have made significant contributions to the country's development, he said, adding that Vanuatu encourages them to visit their homeland to help strengthen ties between the two countries.