Vanuatu 's Tourism efforts back on track with national road shows
Vanuatu
 Tourism Office claims to be unfazed by the recently ramped up marketing efforts of rival Tourism Fiji, promising a revitalised push of its own.
In Sydney for Vanuatu's national roadshow series, VTO general manager Linda Kalpoi told Travel Today that although Fiji is Vanuatu's main competitor, it is a "very different animal".
"We're not comparing apples and apples here," she said. "We know that Vanuatu has a lot more uniqueness to offer the Australian market."
But she admitted that the destination does not have the same level of marketing budget or tourism infrastructure as its rival.
However, this year will see VTO ramp up its efforts, with Australia ever a focus, and Asian markets climbing up the list of priorities. Kalpoi revealed the tourism body is working with a slightly increased budget this year thanks to the support of the government and local industry members.
Its roadshow returned to Australia after a year's absence, with VTO building on activities with key partners in the local market, and working closely with the media.
It has also launched a trade microsite which should be live in the next few weeks, designed to keep agents up to date with developments in the destination and the local activities of the Vanuatu Tourism Office.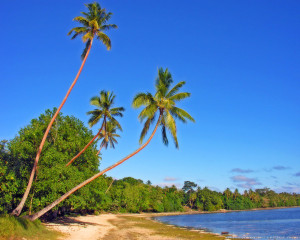 Infrastructure improvements are also on the agenda in a bid to attract more airlines, international hotel chains and ultimately visitors from around the world to the island nation.
While the realization of a new international airport remains several years away, Kalpoi confirmed that the existing Bauerfield Airport is being upgraded to enable it to receive a greater number of international flights, particularly from Australia and New Zealand.
In addition, VTO and the Department of Tourism continue to work on their new accreditation scheme to ensure all tourism operators are of an adequate standard to receive visitors.
The criteria will be applied to buses and taxis first, but will eventually apply to all of the island's 300 plus tourism operators.
Meanwhile, tourism numbers to Vanuatu have picked up after being a "bit flat" in 2013, as the strength of the dollar and improved air access saw travellers head further afield to destinations such as Hawaii and North America.
Kalpoi revealed the numbers for 2014 are so far "looking good", particularly from the Australian market which has turned in growth of more than 8% for the first quarter.
"We are seeing the number starting to increase so we're very positive for the year," she said.
Source: Travel Weekly Anne Majumdar May 2014