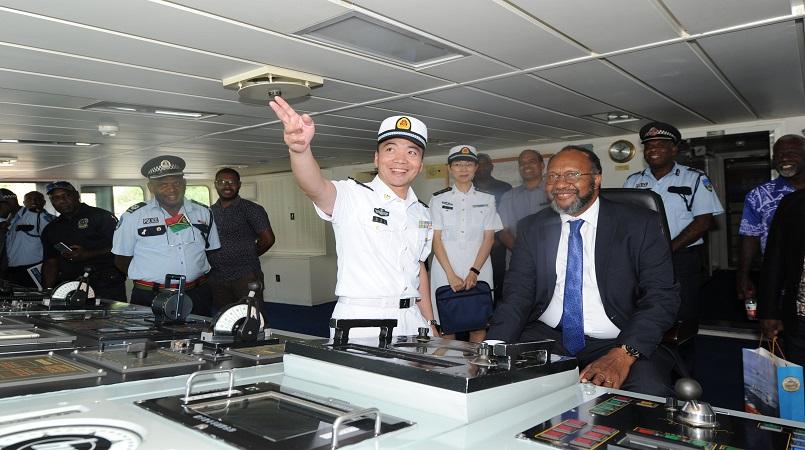 Richard Butler | Xinhua | July 28th 2018
SUVA, July 28 (Xinhua) — Top leaders of Vanuatu, expressed appreciation for a Chinese naval hospital ship's visit, saying it demonstrated the profound friendship between Vanuatu and China.
The Chinese naval hospital ship Ark Peace, which is on Mission Harmony – 2018, arrived in Port Vila, capital of Vanuatu on Monday for humanitarian medical service.
"As many citizens of Vanuatu are unable to afford the medical cost, they cannot be effectively treated even if they are very sick. The arrival of Ark Peace has bestowed health upon the people of Vanuatu," said President Tallis Obed Moses while meeting with commanders of Mission Harmony – 2018 and their entourage in his office on Friday.
Moses extended thanks to the Chinese government and its navy on behalf of the government and people of Vanuatu, looking forward to Ark Peace's arrival once more.
Both President Moses and Prime Minister Charlot Salwai came aboard the Chinese hospital ship to visit medical staff and local inpatients and joined a deck reception hosted by Ark Peace.
On Monday, Salwai went to the wharf to welcome the Chinese naval hospital ship. He also received a courtesy call by the mission commanders and their entourage.
Salwai said that Ark Peace's visit will improve the lives of the citizens of Vanuatu and make new contributions to their medical care. He acknowledged that both education and primary healthcare are enlisted as one of the priorities of the government as healthcare of Vanuatu is under great challenge due to limited medical budget.
During the visit on July 23-30, medical service is provided onboard Ark Peace as the major platform. In the meantime, medical teams are also dispatched to local hospitals, villages, communities as well as schools and center of the disabled for round of medical visit.
Till Friday, Ark Peace has completed medical consultation and treatment for 3,572 persons, auxiliary examinations, such as CT, DR, ultrasound and ECG, for 1,774 persons and 20 cases of surgical operations and received 21 inpatients.