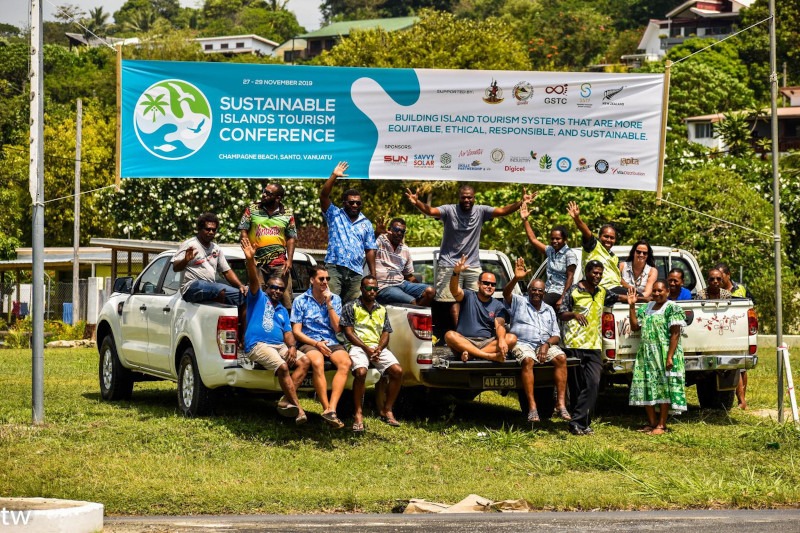 Richard Butler | Exclusive By Daily Post | November 23rd, 2019
The Department of Tourism (DoT) with the support of the New Zealand Government, has raised the banner in Santo for the Sustainable Islands Tourism Conference to welcome over 130 delegates many of whom will be traveling from the Pacific islands, USA, Australia, New Zealand, Caribbean and Europe.
The conference attendees will be experts in the field of sustainable tourism and Government officials from the Pacific including Palau, Hawaii, Cook Islands, and French Polynesia.
The vision behind the conference is to lead by example in sustainable and responsible tourism. The DoT is taking many measures to ensure the event represents the vision and values of the Vanuatu Sustainable Tourism Policy (2019-2030).
The VSTP aims to create a tourism industry that minimises and mitigates its impact on the environment; protects and enhances tourism assets (Vanuatu's culture, kastom, local organic produce, community, environment, friendly nature etc.) and provides a fairer distribution of profits to local Ni Vanuatu, particularly in rural areas.
The sustainability measures to be included in the Conference design are: minimal waste and no single use plastics; farm to table catering and promotion of local Pacific cuisine for all the conference delegates; solar generators and no air-conditioning; water tanks and filtration systems to supply drinking water; booking out local accommodation sourced as close to the event as possible; building a traditional nakamal located on Champagne Beach funded by the DoT; repair of the road to Loru Conservation Zone for tours and tree plantings; and promotion of local handicrafts through gift bags for delegates and handicraft stalls at the event.
The Sustainable Islands Tourism Conference is a unique opportunity for Santo to showcase its journey towards a sustainable tourism destination.
It also demonstrates the strong commitment by the DoT in developing and supporting the outer islands. The DoT is grateful for all the sponsors and supporting stakeholders listed on the Sustainable Islands Tourism Conference banner and looks forward to a collaborative and inclusive event.