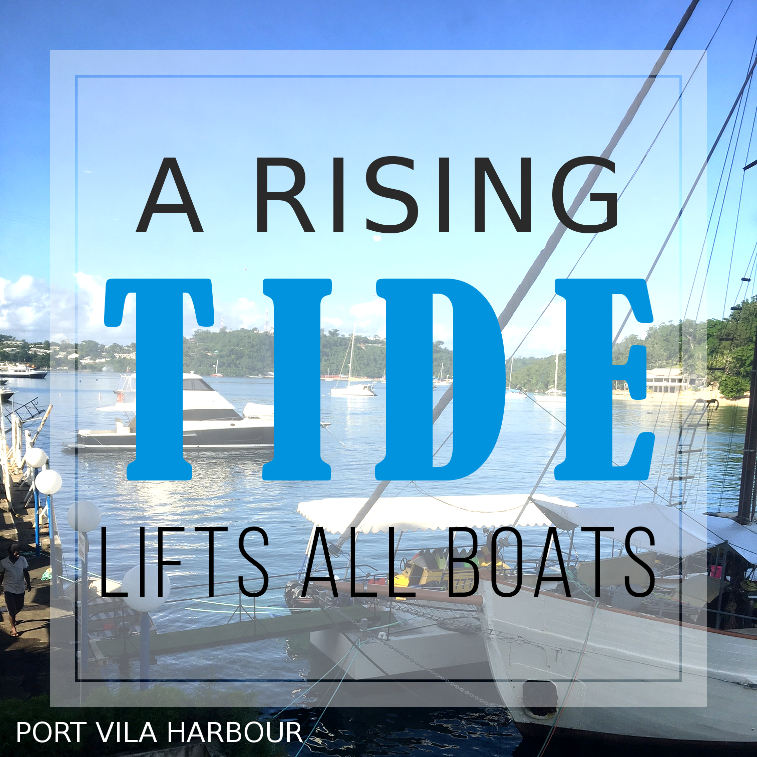 By Richard Butler  |  22nd May, 2016  |
What a great statement this is, that was made this week in Vanuatu in a story in our local paper.  It has ushered in a new sense of hope and promise.
It was used in a release of the concept plan that was included in the request for expressions of interest for the development of the upgrade of the Vanuatu International airport at Port Vila.  The upgrade potentially includes two other airports: one on the island of Espirito Santo (to receive Airbus and 737-800s) and Tanna Island which recently has had a award winning success at the Cannes Film Festival, and about to be released in USA theatres nationally.
The planning of new upgrading of the existing international airport at Bauerfield Port Vila which was built during World War II by the Americans is now finally well and truly underway
Development funding from the World Bank of US$59 million is available and the concept drawings indicate what is being proposed is a complete transformation of the existing use of the main International airport.
The illustrations make it clear that they want to see facilities for four wide-body aircraft to load and unload simultaneously at a completely new terminal building.
The deadline for the expressions of interest is June 24, 2016 indicating the urgency for which both government and the local aviation board AVL airline officials are treating this work.
Apparently there have already been 10 expressed interest inquiries that have come from both Europe and Asia.
They also advise that they will be seeking expressions of interest for the other two smaller islands for upgrading of the facilities for receiving international flights.
Advice was given that most countries use the hub and spoke model for their international airport infrastructure.  That is, visitors arrive at one location and fly on from there to their final destination if necessary.
Public and private sector stakeholders all agree that an investment on this scale will probably involve some sort of economic sweeter
The greenfield proposal that was put forward earlier includes an exclusive resort comprising an end to end approach that is one where the developer 'owns' the tourist from the moment they leave their home to the moment they return.  This has been widely reported as the most likely.
This implies the construction of a least one high-volume high-class resort.
A Rising Tide
Established local tourism operators are generally optimistic about such a prospect: it would be a textbook case of a rising tide lifting all boats.
Increased inbound tourist numbers then increase flight arrivals,  and no matter how many charters land you can bet your bottom dollar you'll see more scheduled services as well.
Tour and attraction operators, restaurant and shop owners, and boutique resort will all benefit to if only from the overflow.
The value of Vanuatu as a destination improves dramatically from such a scenario.  The onflow into the local community of construction first and then operational employment second, will see a building boom in this South Pacific nation.  I predict in 3 to 5 years you won't recognize the small French-influenced capital Port Vila!
Experience over 35 years in tourism and resort and residential project on the Australian coastline has given me, Richard Butler, an insight into what is coming.  We saw the possibilities in 2008 on our first visit to Vanuatu prior to the GFC/Lehman Brothers crash.  Tourism is almost downturn immune:  even in the worst down market there are always 80% or more of workers still in work and they still take vacations.  To a certain degree then "business as usual" is the tourism industry worldwide catchcry in the face of adversity.
The newly elected Vanuatu government has to accommodate the requirements of education and employment of its growing sector of youth and under the age of 30 now making up a considerable and noticeable percentage of the country's population.
"Floating Banks"
With an estimated 650,000 visitors arriving as day-trippers in the next 12 months from the now very popular cruise boat companies utilizing the three new wharf projects well under construction, there will be the opportunities from what is locally called "Floating Banks."  This name is because each day tripper is reported to be worth up to $300 per person to the local economy.
The emphasis now is on the air transport into the nation.  Close by Fiji took 20 to 30 years to build their air arrivals to 750,000.  Best year figures in Vanuatu have been 120,000 so we have a most marvellous opportunity for growth as a new and improved South Pacific eco-destination.
The new Dreamliner 737-800s transport up to 240 and the Airbus can carry up to 500 tourists.  With the attraction of the newly opened Chinese-funded 1,000 seater conference centre, and with Korea, Japan, China, along with Australia and New Zealand providing grants for infrastructure development, this little nation is about to roar into  amazing growth and demand internationally for both adventure and eco based tourism.
Next problem to be solved
However currently Vanuatu has only 2000 hotel rooms!  So now you have a Conference Centre, magnificent coastline, happy smiling people, no-winter weather plus capacity to fly in large numbers of visitors…  Well, you don't have to be a Rhodes Scholar to see what is on the horizon regarding future resort construction.
Infrastructure development brings investment and employment = tourists in large numbers
Our combined group of development companies currently has 8 resort and residential projects ready for development to assist in supplying the growing requirement for both holiday accommodation and for those looking to relocate to enjoy the benefits of living in the tax free environment that the nation of Vanuatu offers.
Details for one of these can be found at www.pacifichavenresort.com.  My contact phone number is country code +61-417007792