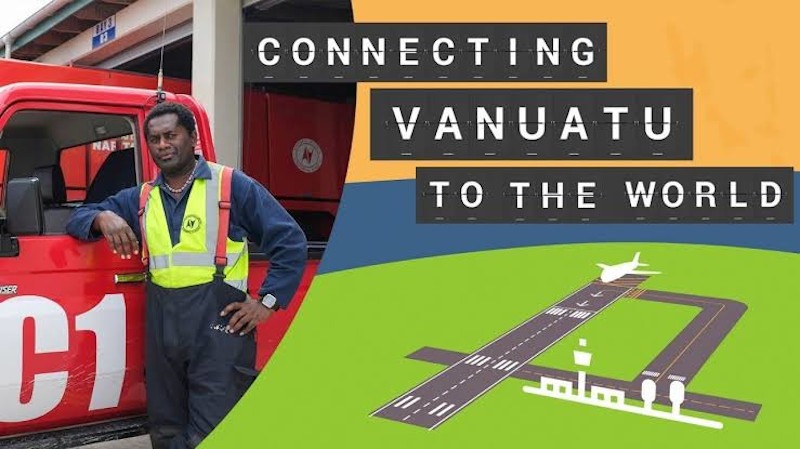 Richard Butler | Exclusive By World Bank News | December 6th, 2019
Story Highlights
In Vanuatu, air travel is vital for tourism, connection to the outside world and access to markets – Tourism is a major employer in Vanuatu and central to the country's economy.
The World Bank has supported the government of Vanuatu through the US$73.9 million project to repair and rehabilitate Vanuatu's three main airports.
The runway rehabilitation of Bauerfield International Airport is some of the largest infrastructure development work in the history of Vanuatu.
It is just after 6 AM in Port Vila, the capital of Vanuatu, and Jimmy Tasso is helping his wife make breakfast for their grandchildren. Afterwards, Jimmy will walk them to school, before catching the bus to Vanuatu's Bauerfield International Airport, where, after 26 years of employment, Jimmy has worked his way up to the position of General Supervisor of Maintenance.
Right now, Jimmy is particularly cheerful. Bauerfield International Airport has recently undergone sorely needed major works. The works, supported by a US$73.9 million World Bank project, include runway rehabilitation, new lighting, and a new domestic terminal for Bauerfield along with works at other airports.
"This job has helped me financially support my family and my extended family. I helped pay my brother's school fees and helped other families back in my home island," he said.
Yet, as head of maintenance, Jimmy was acutely aware of the airport's need for upgrade and repair. Said Jimmy: "I think I would have resigned if the airport had not been fixed, a reliable and safe airport is very important. Travelers coming in contribute to our economy. If the airport isn't reliable, planes will not come to Vanuatu and many people would not be able to support their families."
An important provider
The airport is more than just an employer for hundreds of people. Tourism is central to the island nation's economy, providing roughly a quarter of Vanuatu's GDP and employing thousands across the country.
Handicraft vendor Josephine Fred Gideon is one of many who rely on tourism for her and her family's livelihoods. Arranging her small stall at the Port Vila Central Market where she sells handicrafts, such as woven baskets and salu salus (patterned cloth that serves as towels, blankets and skirts), Josephine reflects on how critical tourism is for her family.
"My daughter is now a finance officer with the provincial headquarters of Tafea province in Tanna island," Josephine says proudly. "Through this business I put her through school with further studies in the Philippines. I'm also paying for my son's fees and he's currently in Grade 13."
She says that Bauerfield International Airport, the main port of entry for visitors flying in from around the world, is crucial to her business.
"Airports help to make things better, and inside Vanuatu, airports help a flow of exchange between people in the islands and the city."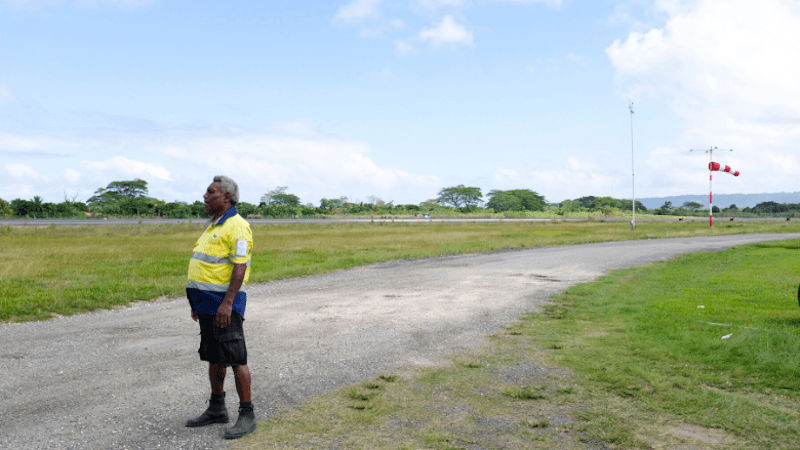 First repair; then rehabilitate
The World Bank and the government of Vanuatu were already in the early stages of negotiating an aviation investment project to upgrade Vanuatu's international airports when, in March 2015, Cyclone Pam bore down on the country.
The Category 5 severe tropical cyclone tore through the islands, flooded airport terminals and damaged tarmacs. The embattled airports proved to be an essential, life-saving links for outside support, with military planes carrying essential supplies landing with only hand-signaling guidance from exhausted airport operators.
As the international emergency response operation ramped up, already-worn airports and tarmacs across Vanuatu were now in urgent need of repair. The Vanuatu Aviation Investment Project became a critical project for Vanuatu's immediate future. Emergency repairs were prioritized under US$3.8 million World Bank-funded works, before attention then turned back to longer-term needs, with the major construction project beginning in earnest at Bauerfield.
Yet the rebuild ahead was no simple task.
"The asphalt was degraded and objects had damaged it, so we had to dig right to the bottom and rebuild it. This was a big job in itself, but contractors had to do it while the airport was still operating," explained Jason Rakau, the CEO of Vanuatu Airports. "We could only work at night once flights had stopped, so we only had about five or six hours a night. And then by 7 AM every day, flights were landing on the runway again. It was a huge job."
The World Bank's Senior Transport Specialist and leader of the project in Port Vila, Dung Anh Hoang, says while the team involved recognized the importance of getting the emergency works completed as swiftly as possible, they never lost sight of the bigger, longer-term picture of what the project meant for Vanuatu.
"Following Cyclone Pam, we worked hard to ensure we would not only repair the damage from the disaster, but create lasting improvements that would ensure safer and more reliable air travel for Vanuatu into the future," said Hoang.
Beyond emergency cyclone repair funding (US$3.8 million) for Bauerfield, the World Bank-funded project has also delivered safety and operational upgrades for Vanuatu's two other key airports – Pekoa on Espiritu Santo and Whitegrass Airport on the island of Tanna.
Gateways for – and to – the world
In a region as dispersed as the Pacific Islands, airports represent much more than a simple travel hub: they are links to the world, jobs, specialized health care, and a vital connection to markets for many businesses.
"There are many reasons why airports are especially important in Vanuatu," said Vanuatu's Prime Minister, the Hon. Charlot Salwai. "They have a great impact in terms of tourism; they are important for access to markets; and air transport is also important for health care; or if there is a cyclone, air travel can be the only link."
With major works now completed, the upgraded runway and terminal at Vanuatu's Bauerfield International Airport is now up and running, with a formal re-opening expected in December 2019.
The US$73.9m Vanuatu Airport Investment Project is one of six projects being delivered under the World Bank-led Pacific Aviation Investment Program, which has also seen upgrades completed or now underway on airports and aviation infrastructure and systems in Kiribati, Samoa, Solomon Islands, Tonga and Tuvalu, funded through the International Development Association (IDA), the World Bank's fund for the world's most in-need countries.