Posted by PNG Today on Monday, June 22, 2015.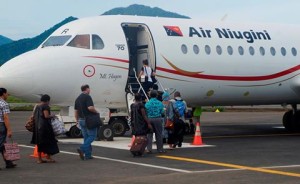 Papua New Guinea's National Flag Carrier, Air Niugini is set to make its maiden commercial flight into Vanuatu capital Port Vila, this Wednesday 24th June.
This comes as Air Niugini seeks to open up new routes in the Pacific Region and other overseas destinations.
The new flight is been made possible under the tripartite code share arrangement between Air Vanuatu and Air Solomon Islands.
Air Niugini will use its Fokker 70 series to expand this service to Port Vila via Honiara, Solomon Islands, as announced by its Board Chairman, Sir Frederick Reiher, earlier this year.
"Re-fleeting program, Air Niugini is undertaking over the next three to five years. It will further expand the use of jet aircraft on a major domestic route to give our passengers are fast and more comfortable service between our major centers. But long range capability of the aircraft will also enable the Fokker-70 to operate Port Moresby-Cairns route as well as new routes to key centres in the Pacific. I am pleased to note that following a recent tripartite code-share agreement between Air Niugini and Solomon Air and Air Vanuatu, Air Niugini will commence flights to Vila, Vanuatu via Honiara in early June with the Fokker-70. And hopefully beyond to New Zealand."
Sir Frederick said the arrangement is aimed at strengthening and promoting understanding partnership between the Melanesian Spearhead Group airline industry.