Vanuatu Daily Post
A Memorandum of Understanding was signed between UDBP, China Huashi Enterprise Limited and China South West Architectural Design Limited for the companies to be responsible for the construction project.
Commencement of the building is expected to start in the middle of this year to be completed in two years.
The UDBP President said on completion, the building is going to become the Headquarters of the Bank worldwide.
"This is the commitment of the UDBP Committee to make sure that UDBP should not function only as an international offshore banking institution which is registered in Vanuatu.
We also intend to increase our capital and investment so as to be able to also function as a domestic bank in Vanuatu, in order to provide a professional banking service to the local residents of Vanuaty," he said.
"The UDBP Bank and its Committee are both committed to their customers to invest in Vanuatu for long term purposes."
He said the building will have available all top class facilities "so as to be able to attract more people and more investors into the country", to contribute towards building the economy of Vanuatu and to "provide better services for the Vanuatu people".
In conclusion he said, "I wish to end here by saying that UDBP will become the most reliable and professional institution to provide the most reliable banking services for Asia and the Pacific".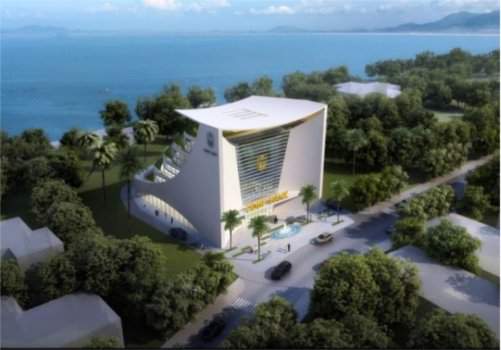 The President and Director of United Development Bank of Pacific Limited, Kevin Lai, has promised his company will own the tallest building in Vanuatu of eight storeys high costing over Vt 3 billion to build.
Not only that buit it will stand as a testimony to the company's vision for the up market design of the building to reflect its commitment towards making the financial institution the banking bridge between Asia and the Pacific.
Minister for Foreign Affairs and External Trade, Sato Kilman, Minister for Finance, Maki Simelum and Governor of the Reserve Bank Simeon Athy have all thrown their weight behind the vision of the President and his Chief executive Officer, Yuan Zhao Yang and their Board of Directors, to build the tallest building towering over the bay and Iririki Island.
The land itself has been bought by the company for a staggering VVT 73 million which is the vacant car park opposite Golden Port Restaurant and Hotel at Nambatu.
Government Minister Killman and Simelum, Reserve Bank Governor Athy, UDBP President and Director Lai and UDBP CE and Director Yang, and senior representatives of United Development Group Pacific Limited, China Huashi Enterprise Limited and China South West Architectural Design Limited took part in the ground breaking ceremony yesterday.