Who has not walked along the seafront and lamented the huge lost potential of this could-be-lovely promenade and amazing asset? The much-talked-about 'seafront beautification project' is on its way to becoming a reality that will forever transform Vanuatu's capital. Funded by the New Zealand Aid Program, the Vanuatu Tourism Infrastructure Project (VTIP) is part of the overall plan for Port Vila's beautification. The VTIP will concentrate on the rehabilitation of two public waterfront spaces: Port Vila's seafront and main wharf areas. The project aims to enhance visitors' experience as well as create better urban spaces for Vanuatu's residents to enjoy.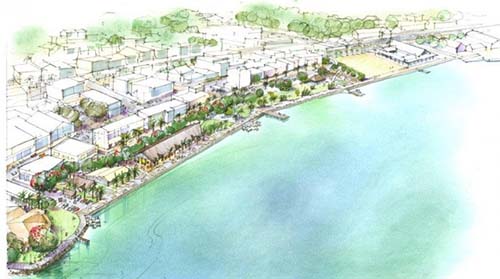 The Vanuatu Tourism Infrastructure Project.
The tourism industry in Vanuatu accounts for around 20% of the country's gross domestic product, with Vanuatu ranking third in the Pacific islands after Fiji and Tahiti for tourism arrivals. Tourism in Vanuatu employs around 26% of the total labour force, over 11,000 people, and cruise ship arrivals are growing rapidly, accounting for 56% of the total international visitors. New Zealand is a key donor in the tourism sector, with the overall purpose of creating 'a buoyant, resilient and sustainable tourism sector that provides greater economic returns for Vanuatu' and the VTIP is part of the broader NZ Aid program in the country. "New Zealand believes the Vanuatu Tourism Infrastructure Project will help revitalize the seafront and cruise ship precinct, and support the goals of Government, local business and the community to develop themselves and the country" explained New Zealand High Commissioner, Georgina Roberts. Construction is expected to begin early in 2015 and will be scheduled in stages to ensure minimal distruption. The purpose of this project is to maximise the value of Port Vila and its assests as a gateway to the outer islands, a cruise ship destination and a fantastic place to live.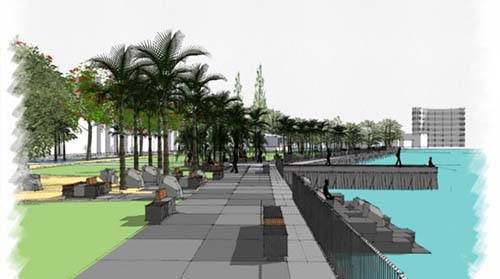 The Seafront
The objective of the beautification of the seafront is to create a more useful and beautiful space that will encourage events, sports and more community interaction, offering a space for families to hang out together, for children to play and for locals and visitors alike to enjoy Port Vila's beautiful waterfront. After years on a downward spiral of decay, this is a very exciting project indeed. "This is a fantastic development, the seawall is overdue for a facelift, as it is the focal point of Port Vila and is of vital importance for tourism; everyone comes to the waterfront" says Ivan Oswald, owner of Nambawan Café. The project will include the repair and upgrade of the damaged sea wall, a new path and coastal walkway, new toilets and mamas' markets and the complete redesign of the park to create a friendlier, more usable space. The seawall refurbishment will see the repair of the current structure with a new precast facing panel and connections for a new central pier, sea steps, and insets for later connection to floating pontoons. The seawall will become more 'water friendly', featuring a new pier and a seating area with steps extending into the water.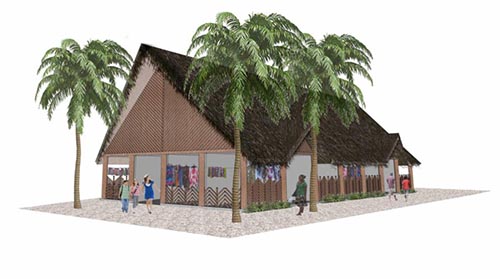 Two new mamas' market buildings will be constructed to replace the existing ones. Designed in traditional Vanuatu style with a natangora thatch roof over an open structure with multiple entrances, the two buildings will hold 15 and 43 individual stalls respectively, some equipped with power and internet. The main stage will be refurbished so it can continue to hold great events such as Christmas in the Park and other musical and cultural events. "Once the seafront beautification project is completed, it will give us the opportunity to have more activities in town so that visitors can enjoy what Vanuatu has to offer. It would be great to see, for example, cultural performances such as dance and music from different groups held on the stage during cruise ship days. Vanuatu offers a singular cultural experience to the tourist and to give a taste to one-day visitors is to extend an invitation for them to come back" explains Campbell Beeson, Chairman of the Duty Free Traders Association and owner of Prouds Duty Free and Sound Centre. A new playground with suitable play equipment for children aged 2 to 6 and 6 to 12 and two new toilet buildings are to be constructed, one next to the playground area and another one behind Nambawan Café. "We are very happy with the much needed new toilet facilities and the car park refurbishment that will completely transform this area into what it should be" commented Ivan. As with any high profile new development, there has been a fair share of 'mi harem say' and confusion regarding the scope of change that the project will implement. The current activity hub created by Nambawan Café, Vanuatu Helicopters, Jungle Zipline and the water-based activities, will continue to be where it is, attracting visitors and locals alike. "Although we are a little concerned about disruption during the construction phase, the outcome will more than make up for any disturbance" says Ivan. Locals were also concerned about the welfare of the existing and very popular petanque area. Players can rest assured, the petanque area will remain as is.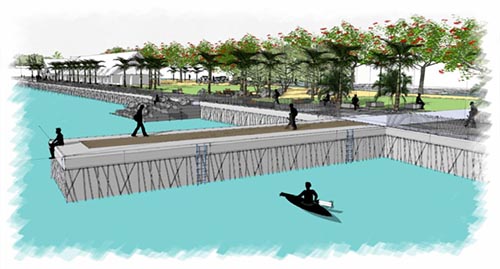 Adjacent car park and road between the park area and Port Vila's CBD will be paved, offering an opportunity for businesses in the main street with back access, such as Jungle Café, to open up their back areas, providing yet more attractive options for all and creating cohesion between the waterfront and Port Vila's main retail area. The park has been redesigned to create more usable and welcoming spaces for families and friends to spend time together. Sitting spaces with facing concrete benches will be located in shady areas, more trees are to be planted to increase shade and lighting will be upgraded to make the park more friendly at night time. Local art and sculptures have been incorporated into the Park's design, showcasing Vanuatu's arts and culture. "Until now, there have not been enough resources to maintain the park. The proposed design is low maintenance with features such as concrete seats that will make its maintenance much easier" explains Ivan. Concerns however, exist about the ongoing upkeep of the new facilities and systems will need to be put in place to ensure adequate maintenance. "It does not matter how good the new toilet blocks are if they are not cleaned properly. Perhaps a private enterprise should be in charge of the maintenance of the new facilities and provisions should be made for ongoing maintenance costs" suggested Campbell.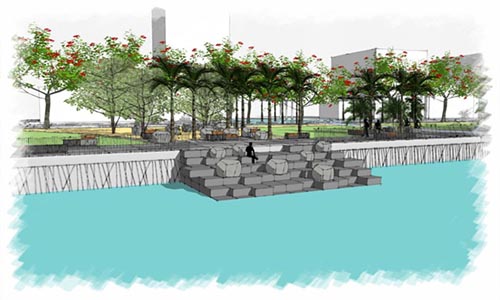 A new path is to be built and will become a coastal walkway that will connect the length of Port Vila's seafront, beginning at the local food and vegetable market and joining with Fatumaru Bay Park to end at Chantilly's. The coastal promenade is a key element that will unify and showcase Port Vila's waterfront. The promenade is designed to be six metres wide and formed in an alternating woven pattern of exposed aggregate concrete and plain concrete, mimicking a woven mat. Fatumaru Bay Park will also be redeveloped with broader footpaths, protection against further erosion, easier access to the water and beaches, a playground and lighting upgrade. "The beautification of the seafront will benefit tourists, local businesses and the community. We look forward to the seafront being a vibrant meeting place, a space to relax, and a venue for family and friends to socialise and enjoy the heart of Port Vila. The designs are stunning and I'm looking forward to strolling along the new promenade!" said New Zealand High Commissioner, Georgina Roberts.
The Main Wharf
At the wharf road, the project will encompass the construction of a new tourism building with a visitor information centre, money exchange, public toilets and other facilities. The road will be reorganised to better cater for taxis and buses with a new taxi and bus stand and a footpath to the CBD along the coastal edge. "Transport is a big issue that needs to be looked at. Ultimately, we want visitors to see as much as possible during their short stay in Vanuatu and coming into town, as well as doing tours elsewhere, should be on the agenda. As cruise ship visits increase, we will need more effective ways to transport visitors. A great idea, that I have seen work well in the Caribbean, is open shuttle buses that could transport visitors into town, to a central location from which tours could also depart. Water taxis to take them back to the wharf from town at the end of the day would greatly enrich their Vanuatu experience. The possibilities are endless!" explains Campbell.
The Port Vila Urban Development Project
Another much-anticipated project is the 'Port Vila Urban Development Project'. This project is a separate initiative from the VTIP described above. Funded by the Governments of Vanuatu and Australia, along with the Asian Development Bank, the project will rehabilitate and resurface a total of 25km of roads, adding suitable stormwater drainage where necessary. It will encompass ten kilometres of main roads from Manples to downtown Port Vila and from the wharf road to the USP roundabout, and fifteen kilometres of residential roads in various suburbs in Port Vila. Construction is planned to start early 2015.
Story by Patricia Gil.