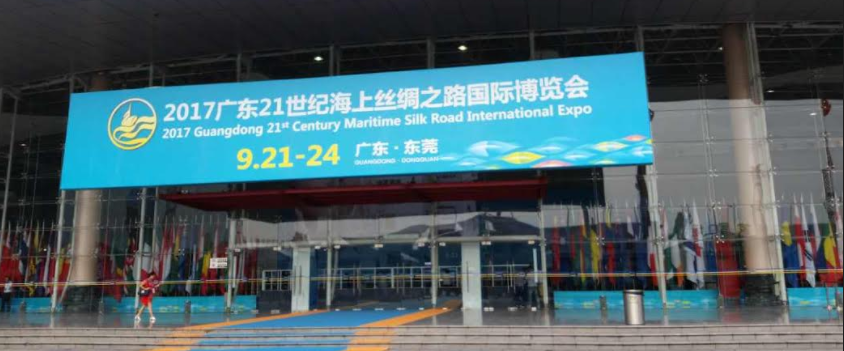 Richard Butler | China Daily | Sept 26th 2017


The 2017 Guangdong 21st Century Maritime Silk Road International Expo, also known as the MSR Expo, held in Dongguan, Guangdong province, from Thursday to Sunday, attracted some 251,000 domestic and foreign participants.
According to the organisers, contracts worth 219 billion yuan ($33.23 billion) were signed at the event.
The expo hosted delegations from 79 countries and regions, among which 56 countries and regions had exhibition booths. This year, 41 countries set up national pavilions.
"The MSR Expo serves as a crucial platform and carrier for Guangdong to participate in building the Silk Road Economic Belt and the 21st Century Maritime Silk Road," said Chen Yunxian, director of the organising committee of the 2017 MSR Expo at the opening ceremony.
This year, the exhibition was staged over an area of 100,000 square meters, a year-on-year increase of 42.8 percent. In all, there were 1,682 exhibitors from home and abroad; some 67 percent of foreign exhibitors.
The exhibitors at the expo displayed their products to visitors and sales agencies, hoping to popularise their "treasures". These included local foods, beverages, crafts and wine from South Africa; silk products, saffron and nuts from Iran; bronzes from Pakistan; spices from India; spirits and honey from Russia; and wine and olive oil from Italy. Samba dancers from Brazil also caught the eye of many visitors.
Richard Butler appointed trade commissioner for the Republic of Vanuatu to Australasia said that as China is the world's second-largest economy with the world's biggest population, it offers many opportunities to Vanuatu companies.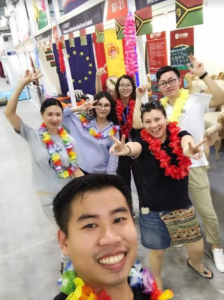 The Republic of Vanuatu in the south pacific is one of the smallest countries in the world an archipelago with only a population of 275,000 spread over 83 islands.
We have attended the expo since the first one in 2014 to build awareness in China of The Republic of Vanuatu,  China has embraced Vanuatu with new direct flights proposed from Guangzhou Balyun International Airport expected to start shortly, and one stop flights from Shangai via Air New Guinea in December 2017.
Vanuatu has already received much assistance from China, such as a new 1000 seater conference centre which along with the underway upgrading of the airports to accept larger jets such as the Boeing  Dreamliner and complemented, by not 1, but three new container and cruise ship wharfs.
Vanuatu is certainly a  target country for Chinese investors with encouragement from Bejing to Chinese businessmen to invest in member countries along the 21st-century maritime silk road.
Vanuatu which is known as the friendliest country in the world and our staff here at the expo informed many of the attributes of investing in our paradise country.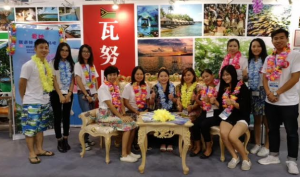 We are striving to build further confidence and win over Chinese consumers for our main product of tourism, agriculture, forestry & aquaculture our future is however heavily reliant on international tourism and the 21 st century maritime silk road has already opened up many opportunities for The Republic of Vanuatu
We have now partnered with a local Dongguan real estate company to represent Vanuatu continually in China with a  special offer for people to fly to Vanuatu for a 5-day experience to investigate investment from china into Vanuatu, our next experience is from 22 nd  October 2017
A large number of innovation-driven products by well-known Chinese brands, including Gree, Sany and Xu Zhou Construction Machinery, was also unveiled at the expo. And some new products, including a new type of drone developed by China Aerospace Science & Industry Corp, successfully caught the attention of foreign buyers.
The organising committee signed agreements with several foreign commerce and business associations to launch the construction of a Guangdong Maritime Silk Road Cross-border Commodity Exhibition and Trade Center.
"In the past three years, we have witnessed an expanded exhibition area, more participating countries and greater achievements," Chen said.
"I hope that all the guests and exhibitors at the expo this year seized the opportunities the expo presented, enjoyed their time, made new friends and achieved more fruitful results," Chen added.
The figures provided by the expo organisers show that the expo attracted 4,035 exhibitors and about 450,000 visitors from home and abroad between 2014 and 2016, with a trading volume of 583.3 billion yuan.
Source: Chinadaily