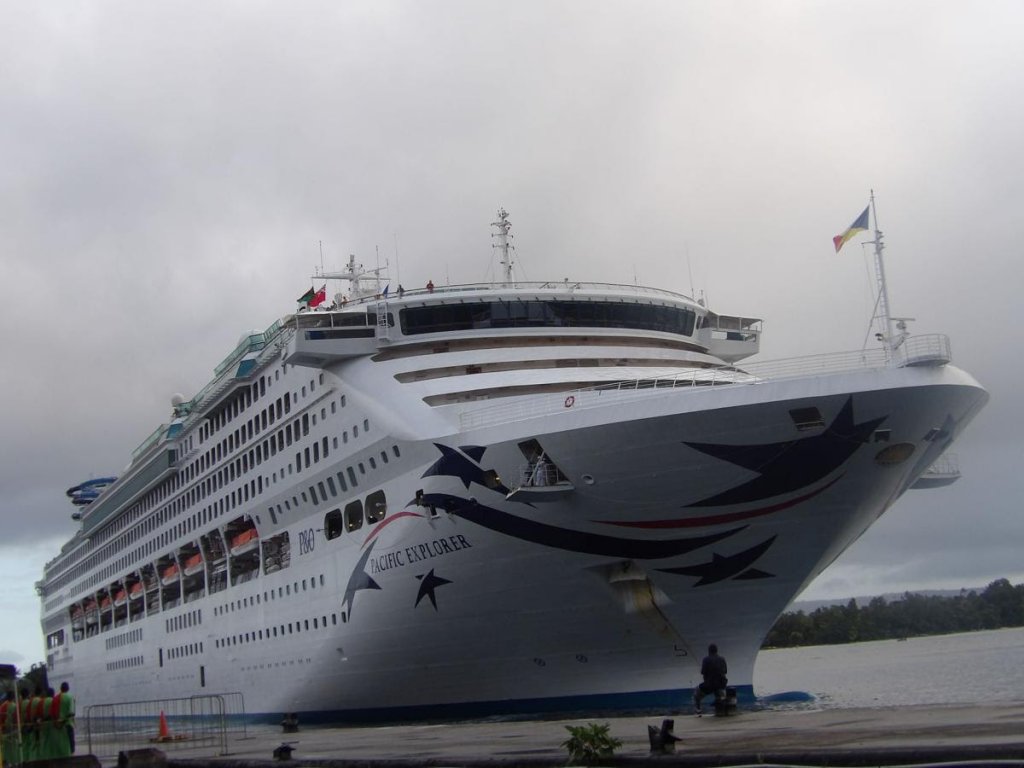 Richard Butler | Daily Post | June 28th 2017


For P&O Cruise Liner, Pacific Explorer, this is its maiden voyage to Port Vila under its new name even though it had visited in the past as Dawn Princess.
Not only that but it also has 54 ni-Vanuatu young men and women working onboard. Some of them came on the balcony to join the guests to cheer the Vanuatu Mobile Force Brass Band perform and a group of cultural custom dancers as they danced to wooden drum beats of Pentecost.
When one of the first of 1,800 tourists set foot on the wharf yesterday morning, she exclaimed "Wow"!
This is the low season for cruise tourists and peak season for air travelers.
A passenger who has just flown in to Port Vila from Australia says she was lucky to find a seat as all bookings to Port Vila on Air Vanuatu were full.
The Deputy Prime Minister and Minister of Trade and Tourism and ni-Vanuatu Business, Joe Natuman, led a group of senior personnel to board the ship to exchange plaques with the Captain and welcome the ship to Port Vila.
The Captain of the ship spoke with passion of Vanuatu as a popular international destination and said, "I would really like to come to Vanuatu to see the volcano on Tanna because I saw it while passing on my ship at night".
He was in actual fact talking to Minister Natuman and MPs Andrew Napuat and Johnny Koanapo who all come from Tanna.
Their discussions also touched on the possibility of bringing a cruise liner to Tanna one day.
All three MPs agree that Yasur Volcano is the most accessible volcano in the world and a person can stand at the peak and look into the belching crater.
Following a highly entertaining tour of the ship, the Captain invited the group to a delicious lunch.
The Deputy Prime Minister thanked the Captain for his hospitality.