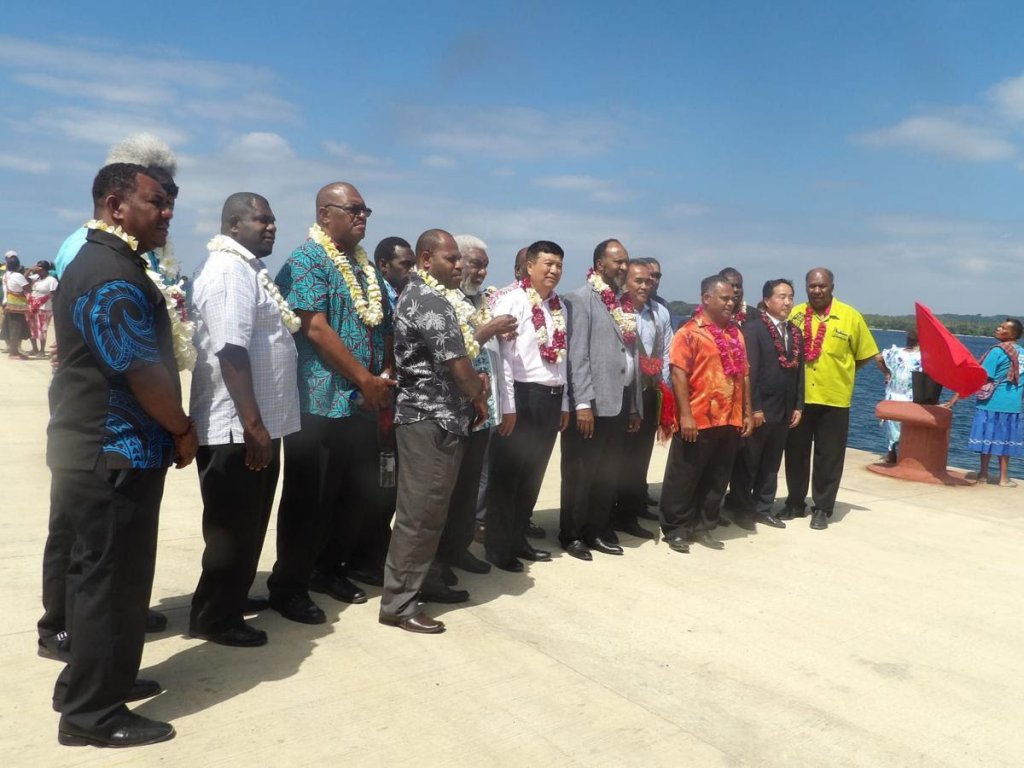 Richard Butler | Daily Post | Aug 21st 2017


The Government of China, through the the Chinese Ambassador to Vanuatu, officially handed the new main wharf at Luganville, Santo-the longest wharf in the South Pacific to the Vanuatu Government last Saturday.
"Once they commit, Chinese companies honour their commitment and deliver, and this time ahead of time".
The statement by Chinese Ambassador to Vanuatu, Liu Quan, could not have been made at a more fitting ceremony than during the ribbon cutting and official handing over of the keys to the longest wharf to Prime Minister Charlot Salwai.
Valued at Vt9 billion, the project comprised of a 360-metre wharf , brand new passenger terminal and facilities to handle both cargo and passengers.
It was successfully completed by the Shanghai Construction Group six months in advance.
The current wharf project is the biggest project to have been undertaken by any Chinese company in Vanuatu.
The Ambassador said, "This miracle project is testimony to the Chinese companies that they have the highest engineering knowhow and technologies, and the most important of all is that once they commit, they honour their commitment and deliver in time and quality".
Shanghai Construction Company Manager Huang said Luganville Wharf is one of ten projects that he manages and that it is also one of the most challenging to manage.
Speaking for the Manager, the Ambassador said, "The most difficult part of building a wharf is working underwater and in this project, six divers spent four hours working underwater for four hours nonstop until their task was completed.
"As the Ambassador of China, i am very proud of you and very thankful to the Government and people of Vanuatu for the confidence and trust they have in China".
He said China and Vanuatu are celebrating together to mark many projects which are going to be completed this year including the Korman Stadium Complex in preparation for the Pacific Mini Games in December. "I sincerely wish that Vanuatu would use this golden opportunity to showcase the warmth and beauty of this paradise and that the 190 athletes currently taking training in China are prepar5ed to win more gold medals!", he said.
The Prime Minister, Deputy Prime Minister and Minister of Trade and Tourism Joe Natuman, Home Affairs and Local Authorities Minister Alfred Maoh and President of Sanma Province John Olo Aru, all thanked the Ambassador and the Shanghai Construction Group for the new wharf which can accommodate two cruise liners at the same time.