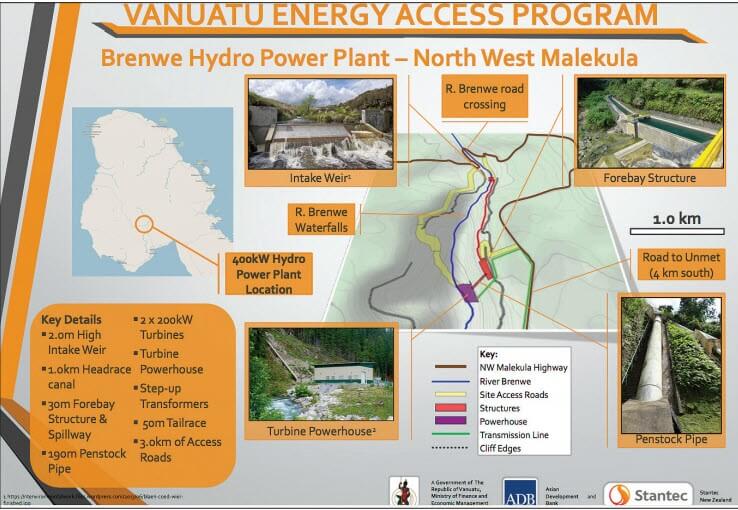 Richard Butler | RNZ | February 7th, 2019
The Government's Energy Access Program (VEAP) is on track for implementation by mid-2019.
The project, which will see distribution of grid extensions on Malekula and Santo has been made possible through a loan and grant funding arrangement between the Vanuatu Government, the Asian Development Bank and the Strategic Climate Fund (SCF) at a total project value of USD15.1 million, or approximately Vt1.5 billion.
ADB are funding VEAP through a loan of USD2.5 million or approximately Vt250 million, and a grant of the same amount, while SCF are providing a grant of approximately USD7 million, or approximately Vt700 million. The remainder of the balance is being provided by the Vanuatu Government.
On Malekula, the once abandoned Brenwei Hydro is being revitalised with the construction of a 400kW run-of-river hydro-power plant, construction of a total of 2km of access roads, 21km transmission lines (20 kilovolts), an intake structure, a 1km headrace canal, a 190-meter steel penstock and a powerhouse.
This means clean electricity power will be generated to service villages in and around Brenwei and Unmet to Leviamp and then down to Lambubu and on to Laravet – increasing electricity access for residents of Malekula from 8% (mostly at Lakatoro areas) to about 14%.
In addition, the proposed Brenwe hydropower plant will provide in excess of 90% of the total generated energy for Malekula.
In Santo, grid extensions will be erected from Turtle Bay to Port Olry – providing electricity for most villages dotted along the eastern coast of Santo.
Tendering for the project is going out shortly and closing in early April 2019.
A contract is likely to be awarded by May and works should begin thereafter commencing with mobilisation of materials and equipment.
Stantec New Zealand have been appointed as design and supervision consultants — providing technical support to the Vanuatu Project Management Unit and the Government's main implementing agencies.
VPMU, which is under the Prime Minister's Office is providing management oversight on the project, in close collaboration with the Ministry of Climate Change and the Department of Energy being the key Government implementing agencies.
The project is being implemented to fulfill a goal in the National Energy Road Map launched in 2013. The document is a high-level policy framework with the central goal of energizing "Vanuatu's growth and development through the provision of secure, affordable, widely accessible, high quality clean energy services for an educated, healthy and wealthy nation" and thus support the three broad pillars of the National Sustainable Development Plan 2030.