Fresh Water Project for Vanuatu's Remote Area
20,000 liters of water per day to heights of over 100 meters
NZ company goes global
Tuesday, 13 August, 2013 – 16:46
Water is arguably the single most important factor facing the world today and making it more readily available has been a significant motivation behind the recent success of EB Engineering Solutions, a small South Island based business with global aspirations.
The Hydrobine self-powered water turbine was initially developed over 20 years ago but was put into hiatus for various reasons. Three years ago a Hydrobine was installed on a Southern farm to replace a petrol water pump in providing water for stock. Following on from this successful installation EB Engineering started a comprehensive series of tests to determine the viability and reliability of the units. These tests confirmed that the Hydrobine was ready for the market and EB Engineering have since begun marketing the Hydrobine both here in New Zealand and overseas with much interest being shown.
They have recently completed an installation in Vanuatu that is now providing water for a village that had been waiting for over 30 years. "The celebration among the villagers was like nothing I have ever experienced before." said Wayne Perkins, who oversaw the project "When the water reached the tank, they just went berserk with delight." This Hydrobine was placed in the flow of the river to turn the turbine and the water being pumped to the tank was sourced from a small fresh spring nearby.
They are also just finishing a difficult installation in PNG that is now supplying water and power to a high school on a remote island in the Province of New Ireland.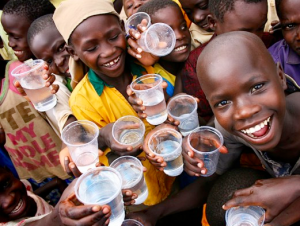 Due to these recent successes they are looking at returning to bothVanuatu and PNG to oversee new installations and have been approached about possible projects as far afield as Asia and Africa.
The Hydrobine system is completely self-powered and is designed to work with low flow and low pressure water supplies in even the flattest terrain. Depending upon the river flow and the available fall, the Hydrobine is capable of pumping over 20,000 liters of water per day to heights of over 100 meters. As it requires no fuel or power to run the turbine, it is ideal for remote locations such as Vanuatu and other island nations.
Read More about Vanuatu