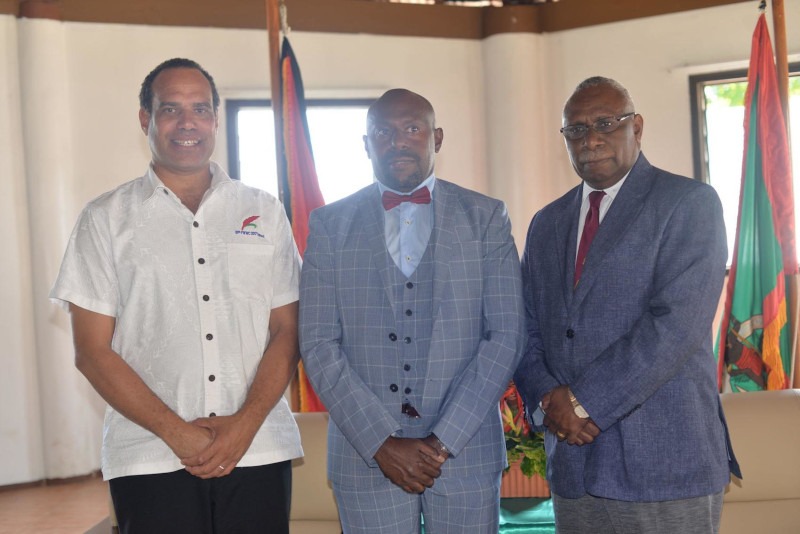 Richard Butler | Exclusive by Glenda Willie of Daily Post | Aug 21st, 2019
Head of State, Obed Moses Tallis has commissioned Mr. Samson Vilvil Fare as Vanuatu's High Commissioner to Australia, yesterday morning at the State Farea.
The President acknowledged that Mr. Fare was the right choice for this position, given his extensive experience in his previous positions as a diplomat with the Embassies in Europe.
"You represent the Vanuatu Government and you are assuming your duties and responsibilities as the High Commissioner of Vanuatu to Australia," he said.
The Head of State urged Mr. Fare to continue to maintain the diplomatic relationship between Australia and Vanuatu.
"Explore opportunities to strengthen our existing relationship to ensure both countries continue to benefit from it."
Mr. Tallis called on the newly appointed High Commissioner to make sure the duties and functions of this high office are executed in a professional manner, urging Mr. Fare carry out his responsibilities in a transparent and accountable way, that is pleasing to the Government and people of Vanuatu.
President Tallis wished him success in his mission in Australia.
Mr. Fare has pledged the Oath of Allegiance and the official oath, officiated by the Acting Attorney General, Mr. Kiel Loughman.
In his response, Mr. Fare thanked the Head of State and the Government through the Ministry of Foreign Affairs and External Trade for selecting him to take up the responsibilities that comes with this high position.
Humbled and honored for the appointment, the new Commissioner assured the government through different institutions that he will hold the position with high respect and will always serve the country with full integrity
"I will defend the interest of Vanuatu government and will always put the interest of Vanuatu government first," he said.
"Vanuatu is almost 40 years, it is about time we step up with our game.
"I am aware that there are a lot of issues to address with Australia. I will not disappoint the Government when executing my duties"
Mr. Fare agreed that Australia is a strong partner and he will maintain this relationship and it is his hope to take the relationship to another level.
He called for support towards his role and he looked forward to work with Minister of Foreign Affairs and the ministry to support this country.