Vanuatu's controversial convention center Construction underway at Port Vila
Posted at 17:47 on 13 October, 2013 UTC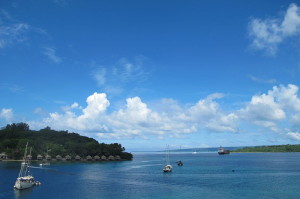 Construction of Vanuatu's controversial new National Convention Center is now underway after months of delay.
The multi-purpose facility is being built next to parliament, with more than 16 million US dollars worth of funding from China.
Under its 100-day plan, introduced when it came into power in March, the government sought to relocate the project in an attempt to preserve the green space at Parliament Park.
But the Council of Ministers has since revoked that idea.
The Chairman of the National Convention Centre task force Jortham Napat says engineers working for the China Jiangsu Provincial Construction Company had already carried out a feasibility study and deemed the site fit for construction.
"So for the government to actually relocate this project to another site, it would cost the government quite a substantial amount of money. And also it's in breach of the contract that was already signed by the government with the construction company."
Jortham Napat says the project is expected to take two years and will accommodate conferences of up to 1000 people.
Read More about Vanuatu