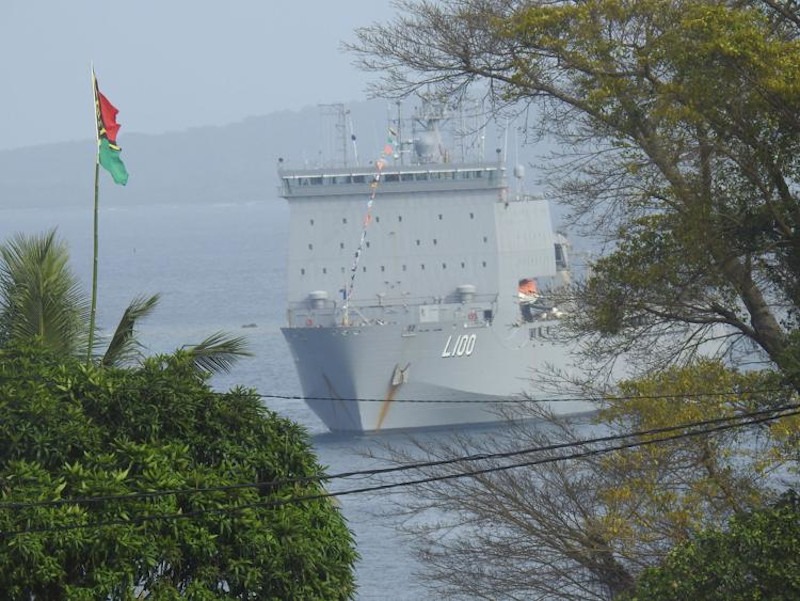 Richard Butler | Exclusive report By Len Garae of Daily Post VU | August 1st, 2020
From a distance the Australian and New Zealand jets looked awesome as they roared over Independence Park to mark the 40th Independence Anniversary of the country to the roar also, of a crowd that perhaps had never seen a war jet on the ground.
Not only that but when our security men and women in uniform paraded in the letter 'Y' at Independence Park, a similar formation was displayed on deck of the Australian military vessel anchored in Vila Harbour.
In addition, when our parading Police, Vanuatu Mobile Force and Maritime Officers fired three rounds of gun fire into the air, the same was repeated by Australians on the vessel.
As a reporter throughout the 40-year period, I have always looked forward to reporting on the celebrations. But while standing in the celebrations at Independence Park, this is my first time to look into the sky and across the Bay to witness similar celebrations from a distance.
When Prime Minister Bob Loughman thanked our closest neighbour and Donor Partners for their ever ready willingness to contribute towards the country's various development projects, it never occurred to me that even with the current global COVID-19 threat, Australia and New Zealand would still honor our 40th Independence Anniversary by celebrating with us but from a distance on our 40th.