Vanuatu-Fiji  cable to go online
Taken from/By: FBC News
Report by: Elenoa Turagaiviu
The Fiji-Vanuatu telecommunications cable system will be ready for commercial operation from tomorrow.
This is after the successful submarine optical fiber cable lay and system commissioning between FINTEL/Fiji and Interchange/Vanuatu.
FINTEL Acting CEO George Samisoni says the 1,250km submarine cable system, at a cost of US$30 million, will link directly into the high capacity Southern Cross Cable enabling Vanuatu businesses to connect to the global telecommunications highway via USA, Australia, Asia and Europe.
Samisoni says the high speed Internet should be a life changing event for the people of Vanuatu and opens the door for e-commerce, e-education, e-health and e-government, to name a few.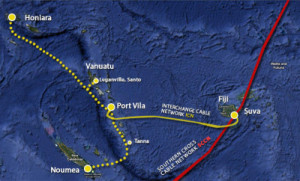 He adds – it will also be a major boon for the Government of Vanuatu and its tourism sector.
This is the second Pacific Island cable system to be landed at FINTEL's Vatuwaqa Communications Gateway, positioning Fiji as the telecommunications hub of the Pacific.
 Read More about Vanuatu