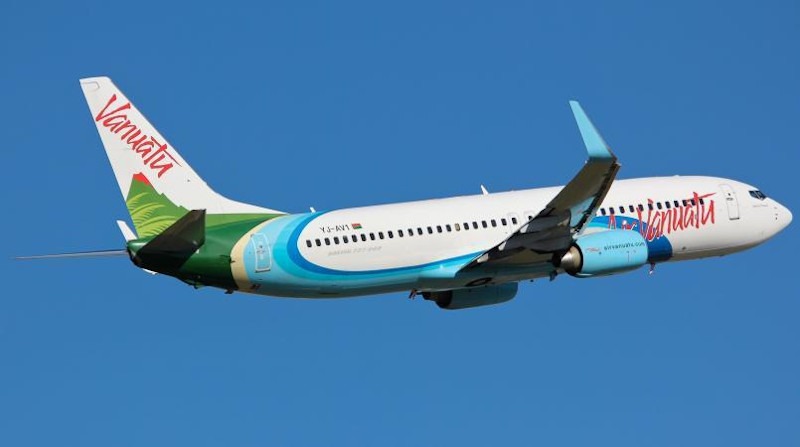 Richard Butler | Exclusive Report By Andrew Curran of Simple Flying | August 14th, 2020
An eagle-eyed photographer has snapped a picture of one of the best looking tails around. Air Vanuatu has made a virtue of using bright, eye-catching livery to get noticed. And its brand new A220s are ramping the eye-catching factor up a few notches. Air Vanuatu might be small, but it knows how to dress to impress.
Mark Brandon, a Quebec based photographer and aviation fan, posted a photo of an incoming Air Vanuatu A220-300 on Twitter this week. The plane, registered as C-FOWU had just came out of the paint shop at Montreal-Mirabel airport, where the main Airbus/ Bombardier A220 factory is located. You'll notice the colors on the actual plane are much bolder and brighter than the colors on the rendered photos provided by Airbus.
The A220s promise to transform Air Vanuatu
In February 2019, Air Vanuatu signed a firm order with Airbus for four A220s, comprised of two A220-100s and two A220-300s. In the scheme of things, it's a small order and beer money for Airbus. But it was a noteworthy order because those four Airbus aircraft will transform Air Vanuatu.
That's what makes small airlines so interesting. Port Vila based Air Vanuatu has just three planes, a pair of ATRS and a leased Boeing 737-800. The airline buzzes around its region, reaching as far afield as Fiji in the east and Australia in the west. The four new A220s, originally slated to start arriving from June 2020, will have a massive impact on such a smaller carrier.
The arrival of the A220s will see the Boeing 737 sent back to its lessor. The airline was also planning a major expansion of services. Five new airports in Australia and New Zealand, including Adelaide, Canberra, Christchurch, Newcastle, and Wellington, have made proposals for the fresh off the factory floor Air Vanuatu A220s to start flying in.
In contrast, if four new Airbus A220s turned up at Delta Air Lines, hardly anyone would notice.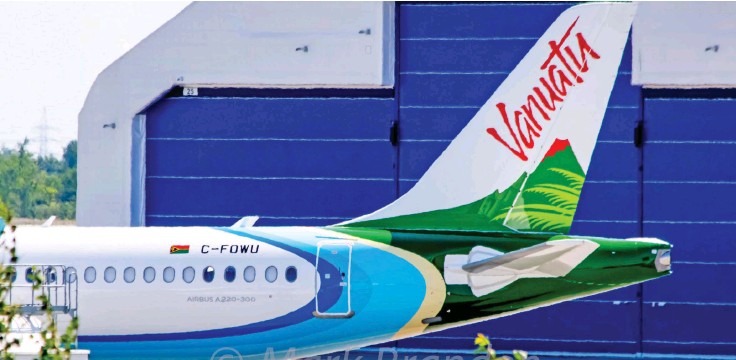 The arrival of the A220s at Air Vanuatu delayed
Then the travel downturn hit. In March, Air Vanuatu suspended its international services. It has continued operating services around the islands and some international repatriation flights, but scheduled international flying has not yet resumed.
In late May, Air Vanuatu said it was putting on hold plans to take delivery of its new Airbus A220 aircraft. At the same time, there was a management shakeout at the airline.
Simple Flying has approached Air Vanuatu to get an update on the situation and timeline surrounding the delayed deliveries of their A220s. At the time of publication, the airline has not responded.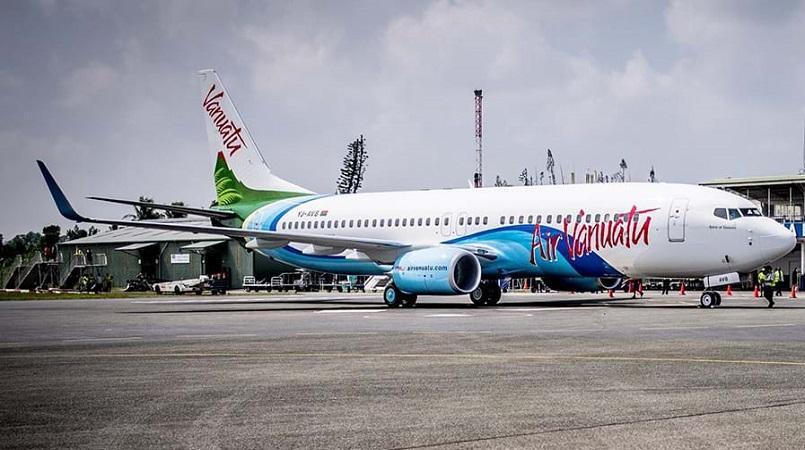 An inspired marketing idea
Whether by design or default, the technicolor livery is an inspired piece of marketing by Air Vanuatu. Not many people in Canada would be aware of Air Vanuatu, but that tail got it noticed this week outside a hanger in Montreal. The picture went on Twitter, Simple Flying noticed it, and the word spreads.
Some big airlines can afford to spend millions promoting their product. Smaller airlines, like Air Vanuatu, have to think outside the box to get attention. An eye-catching paint job is one way to achieve this.
Air Vanuatu is not the only airline in the South Pacific neighborhood that has a knack for this. Fiji Airways and Air New Zealand both have highly distinctive liveries that get their planes noticed at airports around the world.
Meanwhile, while the travel downturn continues to bite, Air Vanuatu is busy with some internal housekeeping, reviewing their international and domestic operations, maintenance, and future direction. But wherever the airline heads, it looks like it will be with the A220.