Richard Butler | Exclusive by Ch-Aviation | 27th Aug, 2019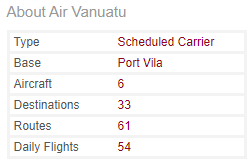 Air Vanuatu (NF, Port Vila) plans to end the wet-leasing of B737 capacity after taking delivery of its first A220-100 in June 2020, Chief Executive Officer (CEO) Derek Nice told CAPA.
"The first aircraft will arrive in June 2020 and will replace a wet-leased B737. So we will not be increasing capacity but this aircraft is going to deliver us some substantial economies through cost-savings and efficiencies. The second aircraft will arrive in October of 2020. That will be our first growth aircraft and will allow us to transition from ATR to jet services on some of our regional services and also to increase frequencies," Nice explained.
Air Vanuatu is currently wet-leasing a B737-300 from Nauru Airlines (Australia) (ON, Brisbane Int'l). According to the ch-aviation schedules module, the aircraft is currently used to operate from Port Vila to Auckland Int'l, Brisbane Int'l, and Nadi, as well as from Espiritu Santo to Brisbane.
Nice pointed out that the carrier's sole narrowbody, a B737-800, was equipped with 170 seats and, as such, was too big to sustain more frequencies to even the most popular destinations. Replacing the narrowbody with the A220s will allow Air Vanuatu to increase the number of flights and improve connectivity to long-haul flights. Despite its smaller size, the aircraft will have similar unit costs. With more frequent flights, Air Vanuatu will be able to cater to the growing tourism demand from Asia, North America, and Europe.
"Our role is the last mile, to bring visitors from the main hubs in the Oceania region to Vanuatu. We need to partner with other airlines which bring passengers to these hubs," Nice said.
The carrier's A220-100s will be equipped with 108 seats, including eight in business class and 100 in economy. Air Vanuatu also has two A220-300 on firm order, with deliveries due in 2021 and 2022. They will be equipped with 133 seats, including eight in business class and 125 in economy. The A220-300s are also marked for growth. Air Vanuatu has options for a further four A220s with deliveries possible from 2023 onwards.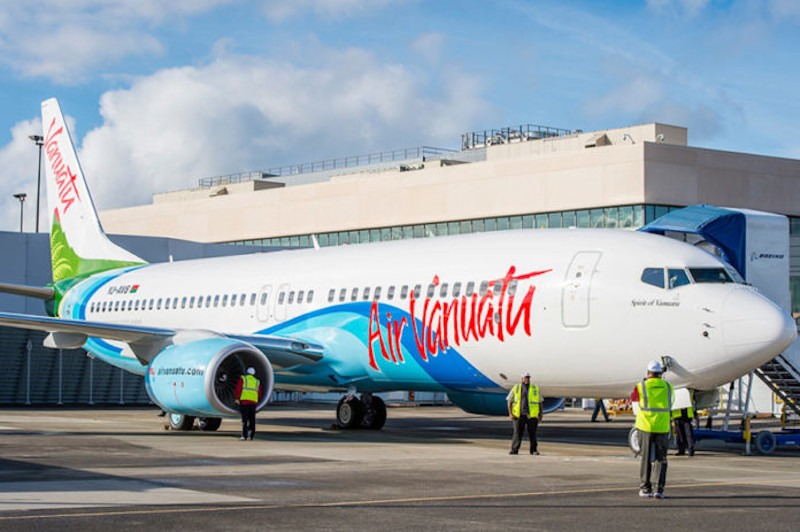 Air Vanuatu plans to use the A220s to increase the frequency to Brisbane (currently 4x weekly from Port Vila), Melbourne Tullamarine (3x weekly), Sydney Kingsford Smith (daily), and Nadi (weekly), as well as add new flights to Christchurch and potentially Adelaide and other cities in the region. The carrier will also replace the ATRs on regional routes with the Airbus Canada jets. Currently, the only turboprop-operated international service is to Nouméa La Tontouta (4x weekly).
The Avions de Transport Régional turboprop, as well as the incoming A220s, will be redeployed to trunk domestic routes. According to the ch-aviation fleets advanced module, the airline operates one ATR72-600 with its only ATR72-500 having been written off following a landing accident in 2018.