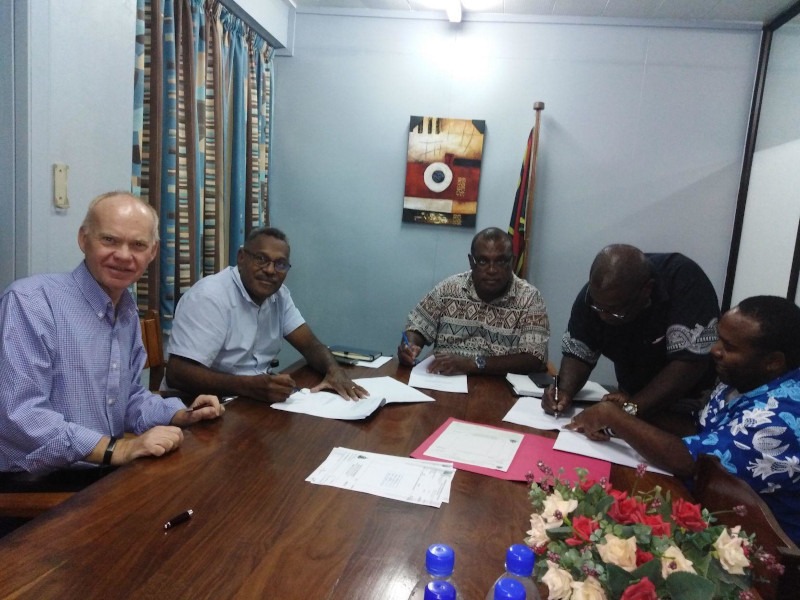 Richard Butler | Exclusive By Godwin Ligo Of Daily Post | April 25th, 2019
The signing of the Vt380 million loan agreement, providing four Airbus to Air Vanuatu by 2022 leading to the development of Vanuatu's Economic and tourism sector.
Minister of Finance and Economic Management, Gaetan Pikioune, and the Chairman of the Air Vanuatu Board, Joel Lengsau, have signed an agreement for a Vt380 million loan.
The loan is the second down payment towards the assembling of four Airbus aircrafts for Vanuatu.
The first down payment of Vt850 million was made at the beginning of 2019.
Chairman Lengsau said the first Airbus aircraft is expected to be delivered to Vanuatu in June next year.
The second aircraft is expected to be brought to Vanuatu in 2021, the third aircraft will be delivered to Vanuatu towards the end of 2021 and the last Airbus aircraft will be delivered to the Air Vanuatu Fleet in 2022.
Both Air Vanuatu Chairman Lengsau, and the Chief Executive Officer of the national airline, Mr. Derek Nice, assured the Minister of Finance and the Vanuatu Government that this investment will contribute to the economic development of Vanuatu, through increase of flights and visitors and the tourism industry of the country.