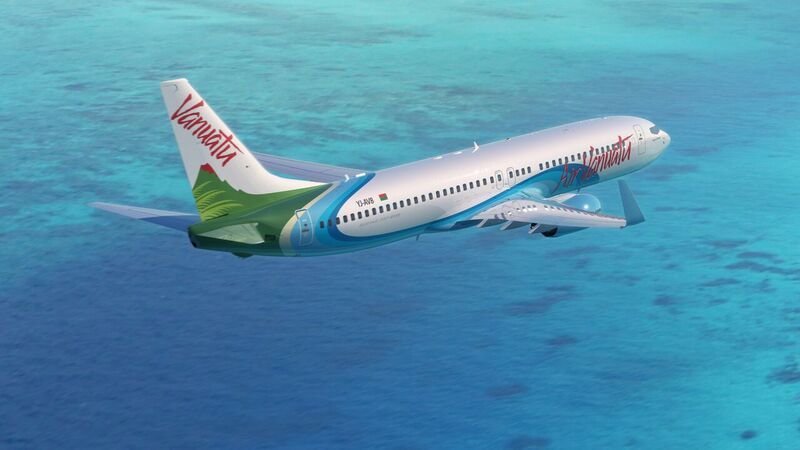 Richard Butler | Daily Post | Feb 2nd 2018
Air Vanuatu has announced additional capacity on international routes with an agreement to lease a Boeing 737 from Nauru Airlines during peak season ongoing until January 2020.
The additional aircraft will operate new services between Brisbane and Santo and Vila on Wednesdays, Fridays, and Sundays each week commencing mid June 2018.
"Leasing this aircraft allows our own 737 to increase services to Sydney and Auckland," chief executive officer Joseph Laloyer said.
"During peak seasons, we will be operating daily flights to Sydney and four flights a week to Auckland. We expect the additional capacity to make a significant boost to tourism in Vanuatu," he said.
General manager of the Vanuatu Tourism Office Adela Issachar Aru agreed saying the VTO was pleased with the new investment in flights.
"We are very confident this extra capacity will boost our national tourism development and help our efforts in continuously promoting the destination abroad.
"Our collaboration with the national airline and tourism partners is very positive in ensuring sustainable tourism growth and mostly, providing tourists with our renowned hospitality to #DiscoveWhatMatters," she said.
The Santo tourism community has also welcomed the additional flights to Santo.
Dave Cross of Espiritu Santo Tourism Association said the new flexibility of short or longer-term visits will appeal to travellers and the tourism community would work with the VTO and Air Vanuatu to promote the additional flights.
Mr Laloyer said the new schedule begins on 18 June.
"I am very excited about 2018; we worked tirelessly in 2016 and '17 to ensure we would be able to increase our capacity and ultimately boost tourism in Vanuatu. To achieve this, we've worked behind the scenes in all departments to ensure codeshare agreements were in place and built new partnerships to provide stability and growth for the airline.
"This year is also our IOSA year, my team is well prepared as we begin the process again of our re-certification. 2018 is going to be a busy, successful year for Air Vanuatu," Mr Laloyer said.