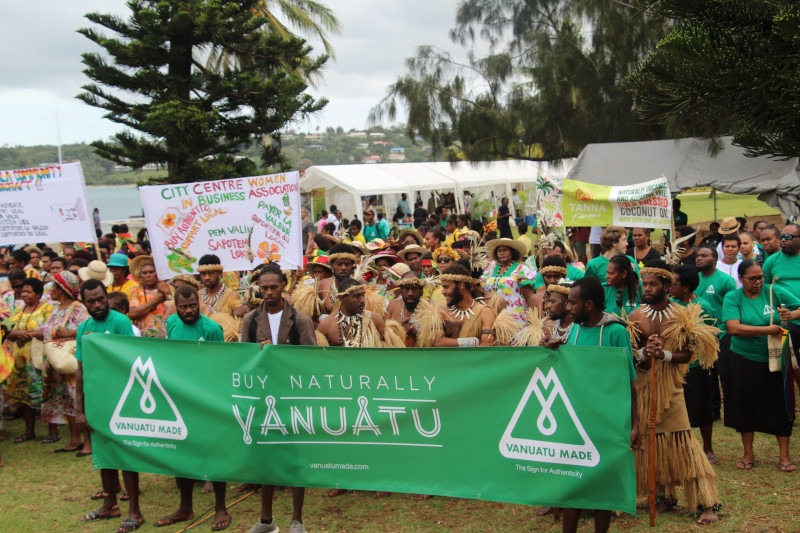 Richard Butler | Exclusive by Daily Post | Sept 27th, 2019
With the theme "Growing our Competitive Advantage through Branding" and "Buy Naturally" slogan, the 'Vanuatu Made' Brand was officially launched by Acting Prime Minister Jotham Napat at the Feiawa Seafront Park yesterday.
The Acting PM and Deputy PM, who is also minister for Trade, Tourism, Industry, Commerce and Ni-Vanuatu Business, welcomed his colleague ministers; New Zealand High Commissioner Jonathan Schwass; Australian High Commissioner Jenny Da Rin; Chinese Ambassador Zhou Haicheng; British High Commissioner Karen Bell; French Embassy's Charge d'Affairs; representatives of other Diplomatic Corps, Public Service; Vanuatu Chamber of Commerce and Industry; DGs; Directors and senior officials; local Government Secretary General and Representatives, members of the private sector (exhibitors) and members of the public.
"Today marks another milestone achievement for Vanuatu, as it is the first time ever for Vanuatu to develop a brand to be used in our local products, developed, designed and manufactured in Vanuatu," he said.
"It has been a long journey, we have strived through, as discussions for developing an own brand was underway some years ago, under the direct initiative of the Department of Trades and Industry and the Chamber of Commerce.
"The Vanuatu Made Brand was possible through the partnerships of the Australian Government through the Governance for Growth and the New Zealand government, through the Handicraft business program.
"On behalf of the Vanuatu government, I commend you for your time and commitment in allowing everyone to witness this historical event today. I thank the private sectors, manufacturers, value added producers, handicrafts and farmers for their contribution towards the 'Vanuatu Made' Brand. What we are witnessing today is a result of hard work and commitment taken throughout the years."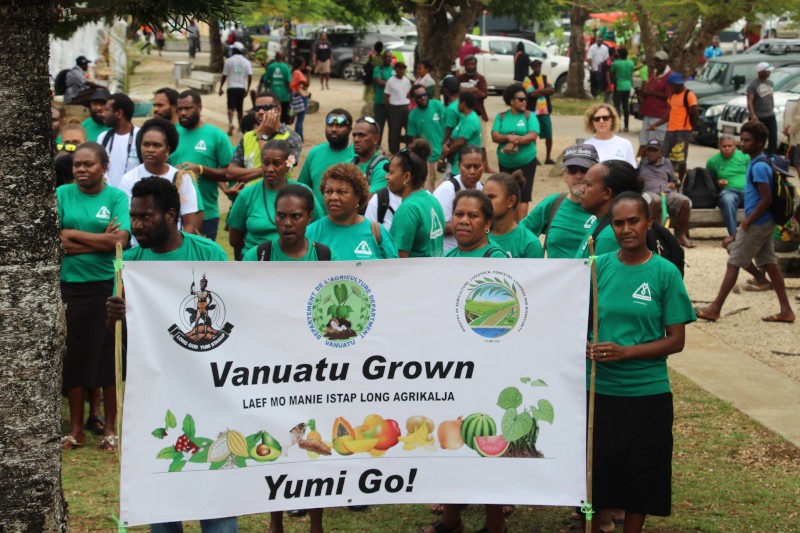 Mr Napat further emphasized that the slogan "Buy Naturally" refers to local products produced within the country via our natural resources, and offering them to markets such as beef, cocoa (Malo), Tanna coffee, coconut, kava, vanilla, pepper, water and other local products.
He said these are not chemical or artificial products, adding that they are the Nambawan/top products in the region and the world.
"Vanuatu will soon graduate to the Developed countries next year and we need to work together and produce more local products to compete with other countries. As a member of the International Trade Organisation (WTO), the Melanesian Spearhead Group (MSG), and the recent Trade agreement with New Caledonia, we must make good use of such opportunities. This launching will guarantee Vanuatu in terms of promoting and marketing our products overseas. The Vanuatu Made Brand should enable us to trace products to its original producer, provide assurance to buyers, provide confidence to buyers, and providing and building trust between the producers and buyers," said Mr Napat.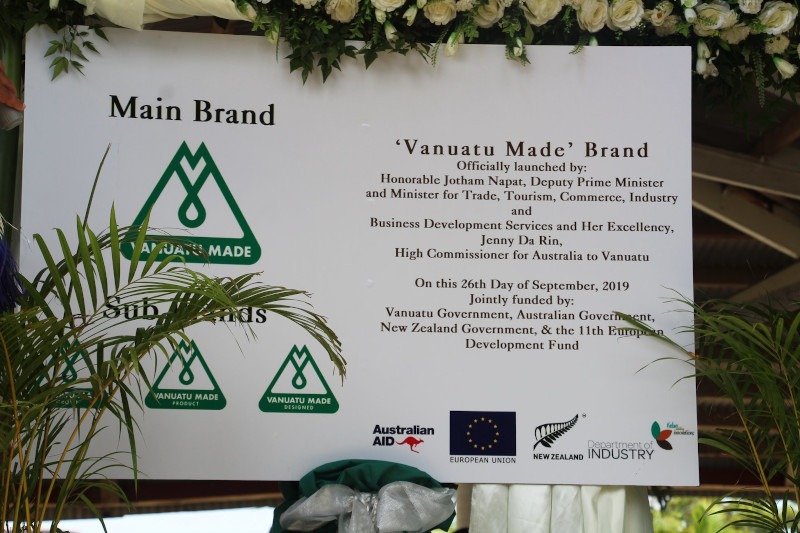 Mr Napat said the power of the National brand can ignite further through cooperation and unity from both the government and private sectors.
He encouraged everyone to work together always, to make sure that the brand launched yesterday will be used promote local products to another level.
In concluding his speech, Mr Napat officially launched the Vanuatu Made Brand Logo and the Vanuatu Made Brand Communication Campaign (website, video, song, billboard). Ending his speech, the Acting PM chanted the slogan, "Buy Natural- Vanuatu", 'Buy Smart', and 'Support Local'.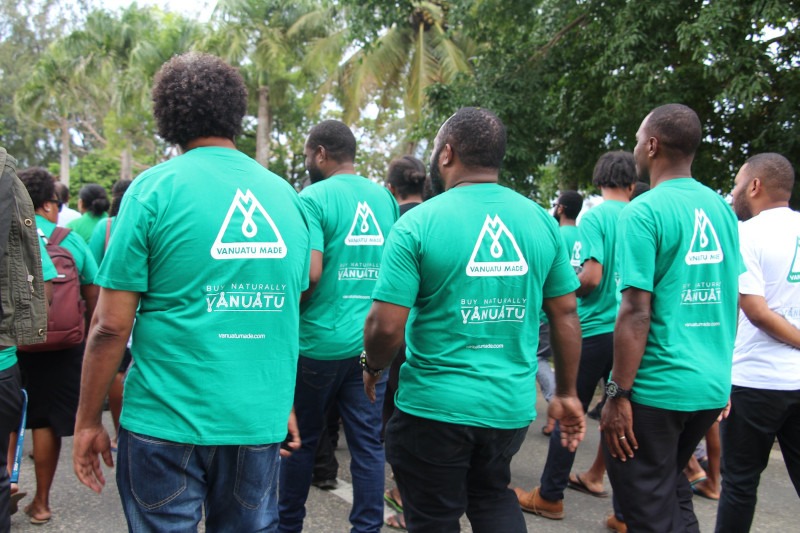 Mr Napat, Agriculture Minister Seremaiah and High Commissioner Da Rin unveiled the "Vanuatu Made" Brand in front of the packed crowd who later viewed the exhibition of local products.
The ceremony also saw Trades DG Roy Mickey Joy; MALFFB DG Moses Amos; VCCI President Shaun Gilchrist and Australian High Commissioner Jenny Da Rin presenting speeches, relating to challenges and achievements to commemorate the event.
There were activities for everyone to participate in and entertainment throughout the day. The event will end today.