(Source: Vanuatu Tourism Industry News 01 October 2015)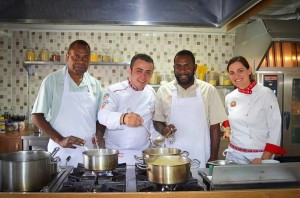 On Wednesday 30th September, a delegation of Government Ministries and Departments in Tourism, including the Department of Tourism (DOT), Vanuatu Tourism Office (VTO), Ministry of Education, Vanuatu Investment Promotion Authority (VIPA), Vanuatu Institute of Teachers Education (VITE), and Technical Vocational Education and Training (TVET), Hospitality Tourism and Leisure Training Centre (HTLTC), Vanuatu Institute of Technology (VIT) assembled at HTLTC to witness a milestone presentation by DOT's Port Vila Tourism Officer, Mr Amos Ronnie.
Mr Ronnie, who introduced himself to an audience of 30, as a chef by trade, presented on a recent trip both him and chef Nati Kaibert, a chef trainer at HTLTC, went on in Turkey initiated by Mr. Mehmet ATAR. Honorary Consul of the Republic of Vanuatu through the Turkish Cooperation And Coodination Agency (Tika). Mr Ronnie thanked the Ministry of Tourism, Foreign Affairs and VITE for the support and assistance which made the trip both possible and successful.
The mission of the training, from 23 August to 11 September 2015, was for the chefs to learn Turkish cuisine with cooking techniques that can easily be transcended into Vanuatu's own local ingredients. Additionally, Mr Ronnie returned with the recipes to be able to prepare, cook, serve, and share the knowledge to Ni-Vanuatu chefs broadening their cooking capacities and skills to cook international cuisines from Turkey and vice versa.
Chefs Amos and Nati, in their first week met with the president of the Turkey Chefs Federation Mr. Zeki Acikoz in the capital city Ankara, and he gave them an opportunity to work in a very busy Sheraton Hotel, as well as learn about the Turkey chefs association, and hold business meetings with Mr Atar to talk about investment opportunities for businesses such as Karakoy, Mado, Kahve to set up in Vanuatu selling Turkish coffee, cakes, and ice-cream. The Honorary Consul told both chefs that his office has produced a marketing brochure for Vanuatu and he is flying a group to Vanuatu in 2016.
Mr Ronnie concluded his presentation with a way forward statement appealing for both Ministry and Department of Tourism and industries to work closely with HTLTC, and the Vanuatu Chefs Association to explore and take advantage of opportunities that will continue to expand what Vanuatu can bring to the table, as well as upskill level of service in food and beverage offered to visitors.
VTO congratulates both chefs for their fine achievement and looks forward to continue working together with stakeholders.
Photo caption: Chefs Amos, Nati and trainee chefs during a training in Turkey.