This week on the Show.
Richard provides last week's roundup of the Australian Real Estate Market, Brian is freezing in New England and Randy Mitchell joins Richard and Brian to talk about the future (no, not Mars colonisation: a MUCH better alternative) and how Vanuatu can be the next big goldmine for investors
Randy is back this week to talk about the IRA, the Self-Directed IRA, what it is and how it enables retirees to invest in their future. He also talks about the roots of the IRA and how it came to be as the Self-Directed IRA.  (Australians could do something similar using a Self-Directed Superannuation Fund)
Richard Butler, Randy Mitchell and Brian Thomas talk about the future, 2015 to be exact, a bit early but better early than late. Richard talks about a new Vanuatu company that is being set up.  He's heard that this will be a real estate and investment company for people interested in buying residential or investment property and/or businesses in the South Pacific.
Richard reckons that Vanuatu will be seeing an influx next year, either as tourists or investors. The great weather, friendly people, relaxed lifestyle coupled with a tax friendly government, Vanuatu will most definitely be one of the major hotspots next year.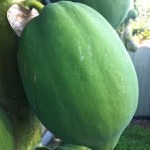 They also talk about Paw Paw and how Red Paw Paw equals Green American Dollars. With the surging demand for export of Paw Paw, Randy and Richard explains why this is a golden opportunity for investing in agriculture