Australia is known for endless beaches, koala bears, kangaroos, cattle and mining plus tourist hotspots like the Sydney opera house and the Sydney harbor bridge.  There is also one more Australian tourist attraction, The Australian Vineyards with clearly defined state by state wine growing areas like the famous Barossa in Southern Australia the Yarra valley in Victoria and the Magic of the Burnett in Queensland so on…..
Richard and Brian talk to Dan Traucki who lives in South Australia arguably the most famous wine state in all of Australia. Originally trained as an accountant in Sydney, he found his calling in the Australian wine industry and today is considered an leading expert in wineology.  This is a hands on interview where you will discover what these Aussies are really drinking.  And, beer is being replaced by wine!
Learn how massive this new viticulture industry is down under.

DAN TRAUCKI
Director-Wine Assist,  Member Wine Century Club
With almost 26 years experience in the Wine Industry, after having started out life as an accountant, Dan Traucki, Director of Wine Assist, has a broad depth of knowledge of the Wine Industry.
Over this time period Dan has held key roles including:
National Sales Support Manager – Orlando Wyndham
General Manager – G & V Trading
General Manager – Yaldara Wines
C.E.O. – Thompson Fruitgrowers & Thompson Vintners
General Manager – Greatstone Wines.
Formerly Dan was the Chairman of the Exporters Association of South Australia
This in-depth and varied experience covering almost all facets of the Wine Industry, other than wine making, gives Wine Assist a broad basis from which to advise and assist its clients. In addition to this, Dan, from time to time, writes articles for Wine Industry magazines. Dan was also the initiator, of the biggest tasting of Jimmy Watson Trophy winning wines ever conducted.
Ray White principal, Anthony Fahey, a industry recognized star in the Adelaide real estate market and a master auctioneer from the beautiful Henley beach suburb, will fill us all in on his patch of beachfront that faces the west and what great buys he has to offer at present.
This weeks show is sponsored by Australian wine exports limited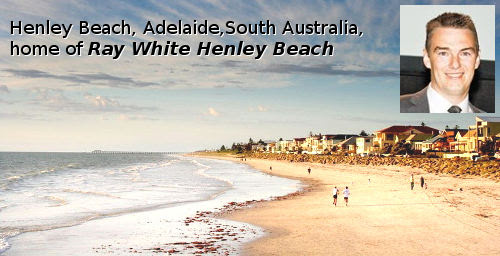 Anthony Fahey
Management – Selling Principal, Ray White Henley Beach
Anthony is the Principal of our office. He has extensive knowledge of the Real Estate industry and has been working in the Ray White Group for over 11 years. Anthony has created a Sales Division that has a strong emphasis on providing "knock your socks off service" for all the Vendors and Purchasers as well as all our Landlords and Tenants.
Regarded as one of the leaders in Real Estate in South Australia, Anthony has achieved the following accolades:
Rookie of the Year in 2001
Alan White Club Member 2001 – 2013
Ray White Elite Performer 2007 – 2013
No 1 Auction Agent 2011 – Ray White South Australia
Top 10 Auction Marketer South Australia 2005 – 2011
Anthony has built up a team of professionals who excel in their fields respectively and he is a firm believer in constantly developing his staff. He ensures they all attend Ray White training as well as weekly sessions at our office in Henley Beach, so we can all give you the best service for your most valuable asset.
"Here at Ray White Henley Beach we are part of Australia's biggest Real Estate brand which excels in state of the art technology plus sheer marketing brilliance which we pass onto our clients"