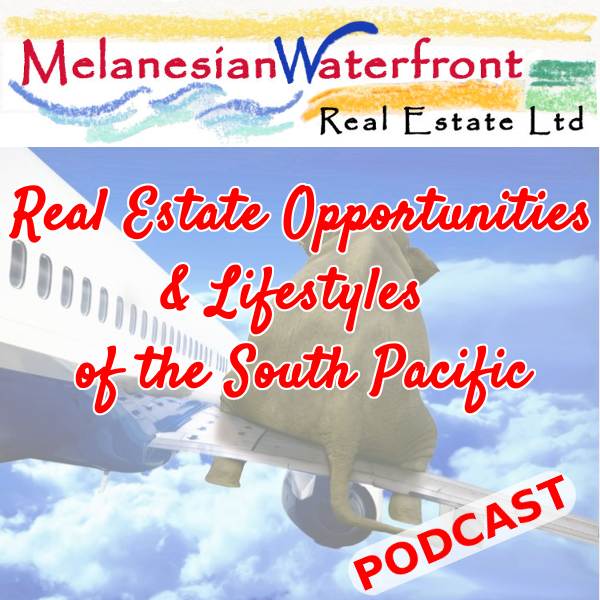 No, not "the elephant in the room" . . .  the one we need to talk about is "The Elephant on the Plane"
It's all very well to talk about investing in a tourist resort in Vanuatu, but "HOW ARE THEY GOING TO GET THERE?" is the "elephant" question.
In this podcast, Richard and Lance discus the obvious objection that the planes are not flying.  When are tourists likely to be able to come to Vanuatu?  And when the expected rush starts, what will be available for them?
More to the point: Is there a way for investors to benefit from a 7.5% guaranteed return without having to make huge outlays?
Richard reveals HOW you can do this using a stunning (and so simple you will wonder why no one did this before) concept that is being released for the first time for a Pacific Island property.
Here's your chance to get both the insight that comes from more than 40 years as a successful Real Estate Developer (Richard, who has been also a Trade Commissioner to Australia for Vanuatu for 5 out of the last 8 years) and an inside look at life as an expat living in Vanuatu for 4 years (Lance)

Mentioned in this podcast…
Phone Richard on +61 2 8007 3803 (Sydney, Australia)
Phone Lance on +61 7 3040 9977 (yes, he's in Vanuatu but this is an Australian Skype number)
Bricklet Fractional Waterfront Bungalow Brochure
A video showcasing these wonderful creatures in Vanuatu waters…
What's the weather like at the Pacific Haven Resort site on magnificent Teouma Bay. via Port Vila today?

View detailed surf forecast for Teouma Bay. Visit surf-forecast.com for more details, long range forecasts, surf reports, swell and weather maps.
DISCLAIMER:
Melanesian Waterfront Real Estate Limited, the owner of the AllAboutVanuatu.com informational website,  does not provide investment, tax or legal advice, and nothing available at www.allaboutvanuatu.com or any communications from the MWREL team members or related groups should be taken as such. MWREL does do not represent any foreign government nor are agents of any foreign government. Before undertaking any action, be sure to discuss your options with a qualified advisor.