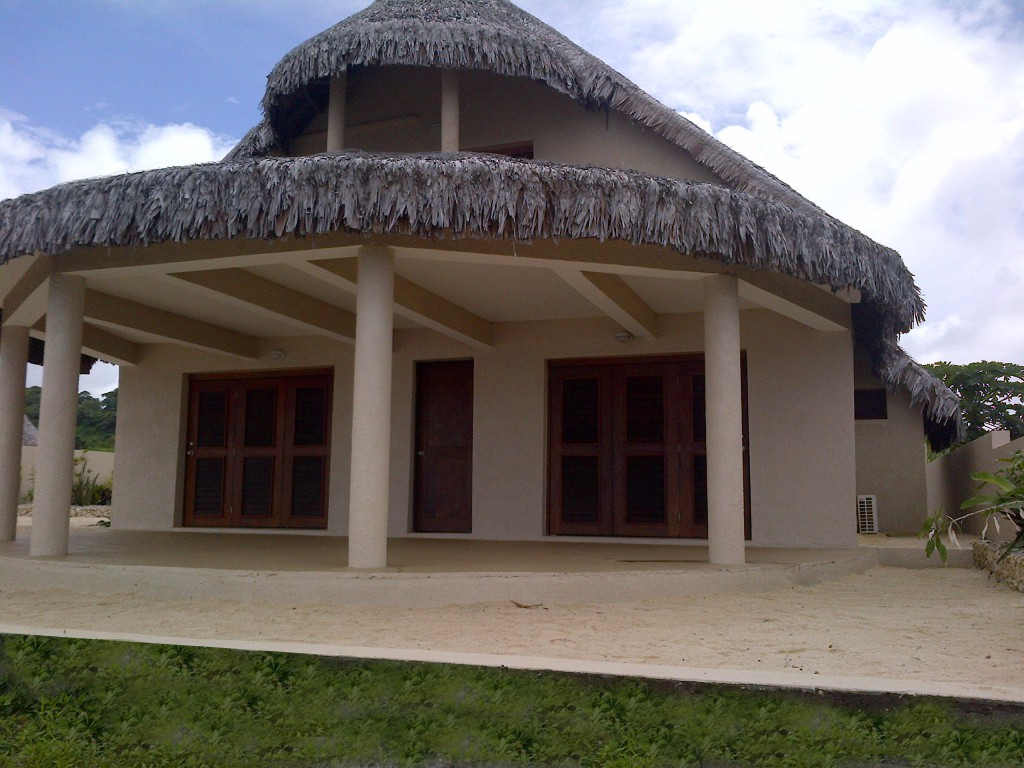 Property Details:
Locations: Oceania, Vanuatu
Exterior: Rendered block with timber trusses and thatched Natengora roofing
Flooring: Superior tiles throughout
Garage: On-site parking
Air Conditioning: Three air-conditioned bedrooms
Heat: Not required
Lot Size: 4628 ft.²/430 m²
Road Type: Coral roads
Roof: Thatched Natengora roofing sealed with marine ply
Sewer: Bio system or septic
Water: Town water
Zoning: Resort residential
About this Property:
Absolute luxury!  These three-bedroom architecturally designed two-storey South Pacific bungalows blend into the waterfront coastal landscape is if they were always meant to be there.
This is something you simply can't buy anywhere else at this price. Only USD $499,000 to $699,000 two-storey, three-bedroom absolute waterfront bungalows with rental returns as high as $800 a day available in peak season, and let people queue up to rent them. Recent marketing of this type of product has been so successful we have seen occupancy rates in the 85 to 90% in other local boutique resorts.
The development company has an inspection flight, which will fly you down from anywhere in the world to inspect. Conditions do apply.  You get a great idea of the quality of the development and what is being offered for sale.
The bungalows are sold fully furnished and some are sold inclusive of a swimming pool.  Plans for a restaurant and 22 metre resort pool along with ProDive scuba academy in stage two.
Vanuatu is part of the South Pacific and a booming new member of the World Trade Organisation with a new international airport upgrade currently complete along with Carnival P&O cruising in with up to 700,000 day visitors in 2015.
The republic of Vanuatu is also very tax friendly and has no private income taxes no corporate income taxes no death duties and there is no land or capital gains tax. There is a VAT tax of 15% and as an investor once you spend more than USD 55,000 you can apply for residency.
Also there is a new Passport and Citizenship programme which has been passed through parliament, where for a total cost of USD $200,000 for a single or USD $235.000 for a family of 4 (2 adults and 2 children under 18 years) you are able to acquire citizenship and a passport. Dual citizenship is acceptable, and the new passport can be issued in as little as 30 days.
However the purchase of a Pacific Haven Resort bungalow (because it is in excess of USD $100,000) allows you to apply for a residency permit renewable yearly at a cost of USD $1,200
Pacific Haven Resort Ltd will manage the property for you and will organise through the International wholesalers tourists from every port in the world who come to enjoy this magnificent almost forgotten land of sunshine and smiles.  The people are friendly and welcoming and tourists absolutely love it.  The development company will also allow you to come and use it for 30 days a year and for the rest of the eleven months' rent out in the holiday market at $228 a night to the downstairs room $350 a night to the upstairs master room or $800 a day peak rental.
If you're interested contact our project manager Richard Butler on International +61 417 007 792 or e-mail him on Richard@Pacifichavenresort.com